If she knew that it all it took to get her masters back was to head to Florida, wait for Gunnar Scott to write a hit duet, knock the socks off of it with Luke Wheeler in front of thousands of people and then use that performance as leverage against Jeff Fordham...
... Rayna Jaymes wouldn't have ever worried when those cops showed up at her doorstep at the start of Nashville Season 2 Episode 8.
Oh wait. I guess that wasn't all that simple of a sequence.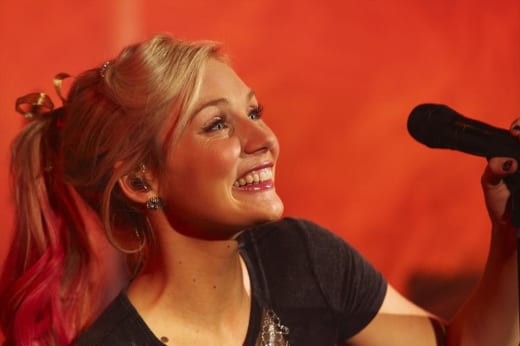 Gunnar, who has recently had difficulty giving his songs up, was having trouble again, only this time it was with writing a track that fit Luke's style. According to the biggest name in country music, that meant making it more "Wheelerey."  
According to Deacon, it meant adding some lyrics about beer and trucks.
For Gunnar it simply meant making the song better, and who better to help him perfect it than his old writing partner, Scarlett O'Connor?
After completely failing to impress in her first time out in front of a big stadium crowd - a scene that I really didn't like for how quickly the audience began to boo and throw things at Scarlett* - she was unsurprisingly upset.  
She wasn't so broken up, however, that she couldn't throw a lyric Gunnar's way that really pulled the song together. Watching the two of them play through that new hit was really a great moment and it was a moment that Luke and Rayna enjoyed watching as well.
*I've been to some concerts with pretty terrible opening acts, but I've never witnessed the crowd throwing things up on stage or overtly booing. In those moments we just begin chatting and looking at our phones instead of paying attention to the performance.
In fact, the two biggest names in country music liked it so much that they performed it the next night in front of thousands of screaming fans. While obviously not as enjoyable as the Gunnar/Scarlett version, I'm glad that the performance worked as leverage for Rayna to get her masters back. She doesn't deserve to be done dirty like that.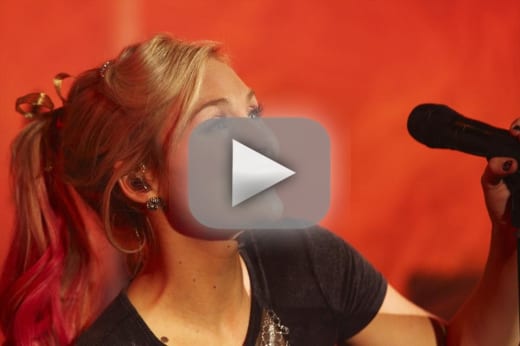 Scarlett, meanwhile, got over her nerves and went onto the stage the second night with a ton of what seemed like fake confidence. It won the crowd over, but from my vantage point it felt like a bad The X Factor contestant trying to pump up the crowd with zero stage presence.
This isn't her scene after all. Scarlett is a small venue performer. She gets intimate with her audience and stadiums just aren't the place to do that. I like that she is going to push through this in order to further her career though, because success takes sacrifice.
Nashville Season 2 Episode 8 also gave us the pleasure of Juliette and Avery absolutely hitting it off as friends...and maybe more? I loved that not only was he there for her in her time of need, but that he pushed her to open up to him. I'm not sure he knew he was going to be unloaded on with tales of betrayal and menage a trois, but it was nice to see their relationship grow, wherever it might lead.
Not so pleasurable was every moment we spent watching Peggy pretending to miscarry. The sad part is that I do like Kimberly Williams-Paisley. This character, and this storyline, just isn't doing her any favors. I can't wait until something happens that forces her out of town, or maybe makes Peggy more likeable.
"Hanky Panky Woman" was another solid episode of Nashville Season 2. What did you like most about it?  What didn't you like about it? Which performance in Tampa was your favorite? And have you ever thrown anything on stage at a concert?
Dan Forcella is a TV Fanatic Staff Writer. Follow him on Twitter.