"The Bit Bucket" is a bunch of recordings the NSA has on Alicia and Diane because of someone they once represented.
Apparently the NSA has been going back over the recordings for a period of two years just in case they missed something of importance. Instead, an entirely new bucket was revealed this that could have ramifications throughout Alicia's life outside Lockhart/Gardner.
There's an extra, heaping dollop of drama this season on just about every story on The Good Wife. Little by little puzzle pieces come together and great big A-HA moments are the result.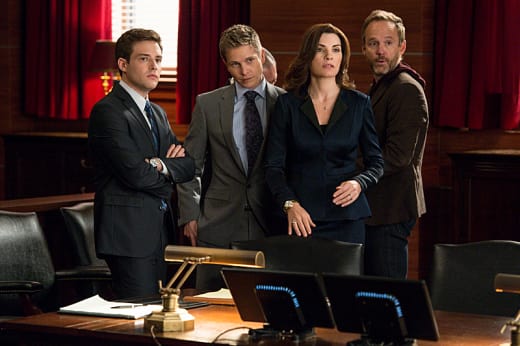 It was really interesting how they wound up the NSA plot. The whole thing started because of a brief terrorist tie two years prior and the decision of Cary and Alicia to sue the NSA on behalf of their Chum Hum client. Neil Gross has a gag order from the NSA that forbids him to discuss his own fight against the NSA's request for site user information. He says that he's losing customers because of the accusations of giving the NSA information freely when, in fact, he's fighting the requests.
The reason this is so important to Cary and Alicia is because Neil Gross has decided to leave Lockhart/Gardner to go with them to their new firm. Without him, their firm sinks. If they want to swim, they have to give him a win. So they battle it out, and through an odd series of events, they win.
What Alicia unwittingly loses in the process is some of her own privacy. She's unaware of the NSA's current bit bucket surveillance, and we were all unaware that Zach's girlfriend, Nisa, is the daughter of a Somali Hamas sympathizer. Now that she's been making calls to the Florrick house, the NSA has direct ties from a suspected terrorist to the Governor elect of Illinois. WTF?!
Meanwhile, Cary had attempted to secure office space for the new firm, but they wanted to talk to their current employers. Since that couldn't happen, the real estate company wanted the full amount up front. Alicia's mother, Veronica, overheard the conversation and made an investment. David Lee oversees her finances and now he has a bit more information that could come up to throw the fourth years out on their collective asses before they're ready to go.
As if things weren't already anxiety ridden enough at Lockhart/Gardner, the Illinois Chief Justice had concerns about Peter's choice of Diane as a Supreme Court judge. He wanted her to give an interview that answered all the questions he had, such as why Lockhart/Gardner still represents a known drug dealer and why they are still aligned with Will Gardner. Diane stood her ground... to a point. She gave an impassioned speech to Eli, but apparently her desires overwhelmed her and she gave the interview. 
It's too bad because Peter had just gone to the mat for her and told the Chief Justice that he had to accept Peter's choice without the interview. When the chat hits the papers, a civil war of a completely different nature is going to rain down upon Lockhart/Gardner. Will it even be Lockhart/Gardner much longer? 
Right now there is so much going on throughout The Good Wife Season 5 it's almost impossible to wrap your head around all of it. I did find it fascinating that every time the NSA came close to hearing discussions that would impart information that Alicia is leaving Lockhart/Gardner they were called from their desks. Is that because Alicia needs to work there in order for the warrant to continue? If she leaves the firm, does the first "hop" of the warrant close down and therefore the entire thing crumbles? 
If so, the dorks at the computer need to stop looking at foreign porn, watching talking goats and whatever other crap they do on our fictional tax dollars because my guess is that once they know she's leaving things will take a different turn. If Diane leaves the firm, will the entire warrant come down on Alicia's head? And could that change things for the new firm? Or will anyone even know about the warrant? Like I said, it's very confusing, but at least nobody can say it's boring!
What do you think is coming next for these poor suckers who are being spied on by the top tier of the government? Of all people to be under a magnifying glass, this group ought to keep the NSA entertained.
Carissa Pavlica is the managing editor and a staff writer for TV Fanatic. She's a member of the Critic's Choice Association, enjoys mentoring writers, cats, and passionately discussing the nuances of television and film. Follow her on Twitter and email her here at TV Fanatic.