This week, Sleepy Hollow introduced a soldier in the Army of Evil, but I didn't find his work to be evil at all. I'll support my hypothesis below. "For the Triumph of Evil" was far more entertaining than last week, yet had some plot holes again.
Let's break things down!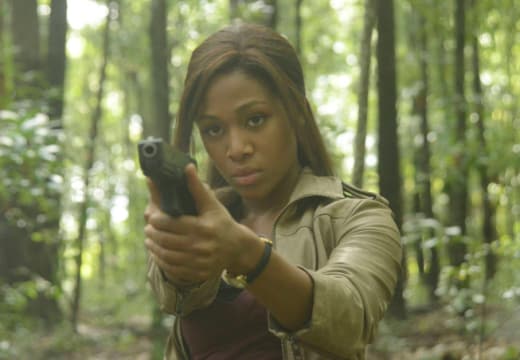 As an example of contradictory story and plot points, we'll head straight in with this Sleepy Hollow quote from the beginning of the episode:
Abbie: Fine. Let's say this this is some evil minion sent after us by the demon in the woods. Why hurt Dr. Vega and what do I have to do with any of it? | permalink
Prior to the discussion Abbie was having with Ichabod in which this quote appeared, they had already determined that Dr. Vega treated her sister in a psychiatric center. There was no denying the story of the two sisters seeing a demon in the woods, even though Abbie wasn't yet ready to come to terms with it out loud. Abbie and Ichabod had discussed what happened in the woods. The bigger question here is this: Why is Abbie asking what any of it has to do with her?? She's a detective. How did she miss all of those connecting dots? 
It was an interesting development to learn that Abbie and Jenny were in the woods four days when they originally went missing. The actresses playing the younger sisters are fantastic, so I look forward to learning a lot more of their back story, especially what happened during those missing days. I also can't wait to see the adult Abbie and Jenny together. Their spitfire personalities will probably make Ichabod's head spin!
As it turned out, the only person who told the truth after the event in the woods was Jenny, and that's why the Sandman didn't take issue with her. That's why I don't think he's much in the way of an evil soldier. How evil can a soldier be who essentially gives you a chance, through your dreams, to atone for your misgivings? If the rancher and Dr. Vega has told the truth about what they believed, they wouldn't have been taken at all. The Sandman is kind of an anti-hero. Tell the truth little girls and boys, because if you don't, you're going to pay the piper... Err... Sandman. 
The story was pretty cut and dry. Abbie had to admit and believe what she saw, yet only in her dreams. I was rather surprised she wasn't required to tell someone in real life that her sister was not crazy, and she was finally willing to back up her version of events from years earlier to escape the Sandman, but he didn't even require that big of a leap. He gave her a rather easy out.
The rest of the show was more bullet worthy.
I like Jenny a lot. She doesn't seem crazy and her banter with "Ichy" was fun. I wonder if she'll continue to egg him on with that nickname. 
Ichabod continues to sport his same outfit. Not only did it not rot in the cave, but it has yet to be laundered. That was noticeable in close-up shots of the shoulder area of his jacket. Given the modern take on retro clothing, he could quite easily rock some skinny jeans and a similar jacket, retaining his look while maintaining some better personal hygiene.
The basement seems to be Abbie and Ichabod's lair now, and was even sanctioned by Captain Irving.
I'm again doubting the thought that Irving may be with a dark coven. Will witches even remain relevant, or will all the future evil army participants be of a different nature?
Once again, Ichabod's historical riffs on what went wrong with America after all they planned were wonderful. This week it was about our falling out with the American Indians.
What could have made tonight a little more exciting? I'm honestly not sure. I think learning there is a faction townsfolk working together to bring about the Apocalypse might be necessary to amp up the tension. If there are two covens of witches, for example, slowly bringing them to light, perhaps one character at a time, might be a good idea. Something more permanent to hamper the work Abbie and Ichabod are doing to thwart the army of evil.
Is this particular army only keeping the Second Horseman at bay? The first is MIA since they have his head. Sleepy Hollow feels kind of empty (no pun intended!) without the threat of a Horseman of some sort. While I don't think one needs to be charging into every scene, the threat and a near miss would keep things interesting.
Deputy Andy was missing this week. Was that the last we'll see of John Cho, or will he be back in future episodes to continue as a messenger of evil?
Perhaps the big evil is the horned demon, the Satan figure, who haunted the Mills sisters and everyone since. The dude who will bring down all evil and the end of days via the Four Horsemen. If so, I want to see more of him, and he needs to be a bit more menacing. Abbie and Ichabod are still great together, but they're too good, too fast. I'd like to see a setback to throw them off course and give the reality of their tribulations a bit more weight.
What are your thoughts?
Carissa Pavlica is the managing editor and a staff writer and critic for TV Fanatic. She's a member of the Critic's Choice Association, enjoys mentoring writers, conversing with cats, and passionately discussing the nuances of television and film with anyone who will listen. Follow her on Twitter and email her here at TV Fanatic.