And you thought your adolescence was tough, right?
In the pilot of Reign, the first episode of The CW's new show about the teen years of doomed royal Mary, Queen of Scots, we see the power struggles and confused sexual longing of any teen drama writ large, transplanted onto a background of plotting and intrigue in 16th century France.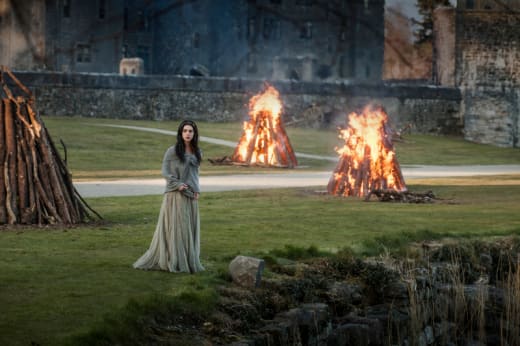 Poor little princess Mary grapples with beheadings, attempted rape, attempted murder, royal conspiracies, ghostly figures, sexy princes, angry friends, forbidden forests, Nostradamus and lost dogs in the tightly-coiled 40-plus minutes of this episode, making a definitive mission statement for the series: being a teenager is dirty, dangerous business.
On some level, it's a surprise that it's taken this long for this merging of genres to happen - whose teen years didn't feel like a life-or-death struggle for power and acceptance? Reign does a great job of placing those feelings within the tradition of the campy historical drama, leaving us with a frothy confection that's one part Pretty Little Liars, one part The Tudors and one part Dark Shadows, while still feeling like a fresh take on a time-worn concept.
The production values are out of this world (the early scenes that almost wordlessly show Mary's flight from the convent that has been her only home are particularly striking), the princes are as hunky as you'd like, there's some hinting at the supernatural and Mary has a whole cluster of ladies-in-waiting with their own strong personalities and personal dramas in her orbit.
If the ladies-in-waiting are portrayed as dishy, scheming gossipy girls, Adelaide Kane plays Mary as a proto-feminist Joey Potter type, bristling against the rules of the court and staring off moodily into the middle distance. On a show that seems constructed from the get-go to be a juicy guilty pleasure, Kane plays her character as if she is in a different and much more serious show, with slows down the pilot in parts.
But it does make a certain amount of historical sense - Mary was, unfortunately, most notable for having had a pretty rough life for a princess. Perhaps all that mooning around will show off a bit more personality as the season goes on.
Is it historically accurate? Of course not. Reign is impressively untroubled by its historical inaccuracy, whether it's having Mary speechify on behalf of true love in her court, or having all the ladies-in-waiting engage in some wild, shoeless dancing that may remind you of your own bat mitzvah reception.
But there are no winks or nods here; this is not self-conscious camp. The show plays it straight (as you can see from a quick peek at the episode's best Reign quotes), allowing you to decide on your own if you want to take it as a campy joy or a teen drama that just happens to involve a lot of corsets.
Production values and historical accuracy aside: does it scratch an itch? Indeed it does; it makes being a Renaissance princess look as appealing as being a princess of the Upper East Side. God save the queen (for the rest of the season, at least).
Grade the Reign premiere now: