Welcome back to TV Fanatic's Grey's Anatomy Round Table!
Our Grey's Anatomy review broke down the latest episode in great detail. Now, TVF's Christina Tran and Steve Marsi, along with Lisa and Liv from GreysGabble.com, are back for a Q&A discussion.
Read their answers below and weigh in with yours!
----------------------------------------
1. What was your favorite scene or quote from the episode?
Christina: Easy. I'm going with Bailey's "Your son is the devil's spawn. He drinks the milk of a liver thief."
Lisa and Liv: Take a bow, Justin Chambers! Our favorite scene was with Alex Karev and absent father in the elevator. Wow, Karev showed his growth, his pain and he not knowing what to do – I was so impressed with this scene.

Steve: I loved Callie's scene with her patient's sister, followed by the dance party. How can you not?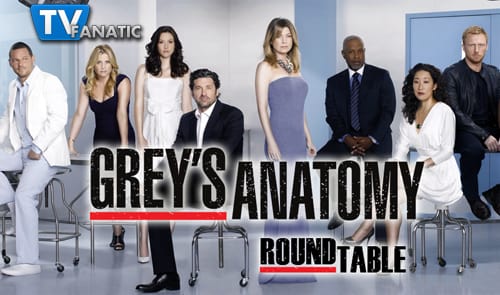 2. What did you think about Cristina and Meredith's fight?

Christina: Talk about tension! Cristina was right, but wrong to compare Mer to Bailey and Callie. It was clear that every word really hurt Mer, and I am ready to find out what Mer's next move is.
Lisa and Liv: This fight was unexpected. You could see Cristina proud of Mer. Yet, you can also see that Mer isn't at the top of her game. We see Cristina's side, and we also get Mer seeing it as a mom. It's a matter of safety. Yet, seeing Cristina back in action makes me sad all the same. It has been a long time since we have seen hard ass Cristina. However, this is about Meredith – can she juggle it all? Did she come to terms that she can't have it all? Is it the same with Cristina choosing surgery over being married and having kids? It's all about choice. Will they be able to live with choices already made?
Steve: Intense! But inevitable if you consider what had been brewing just beneath the surface for some time now. This isn't new. The choices we make in live often drive a wedge between even the closest relationships, especially if the parties involved are as close and as strong-willed as these two successful surgeons.
3. Owen's moving on with Emma. Callie kicked Arizona out. Are Crowen and Calzona really over?

Christina: I'm actually surprised that both couples are on a real break. If I had to pick one way or the other, I'd say Crowen isn't finished and Calzona is.
Lisa and Liv: No, in our opinion, Calzona is not over. We think that this is painful to watch but very real. We are rooting for their grace and healing through this process; betrayal is never easy. Arizona is finding herself – with that new 'do, seeing the Arizona that made me invested!!! Callie - well, wow! Dancing in those pink lacy panties – you go girls, you make being separated look pretty good, but at the end of the day, this is a tough scenario to watch. Stay strong, Calzona!!
Steve: Definitely not. This show will go on forever so there's always hope! That said, I'm surprised in that it looks like the break is legitimate in both cases. It won't be a quick rebound for either, nor is there a guarantee that they will get back together. The writers may not even know. But it's not a done deal.
4. Predict what happens next with Alex's storyline involving his dad.
Christina: Alex's storyline is far from over. It just has to be. We know so little about his past. I predict that his dad will end up in the hospital once again and only after Alex's been checking him out. He looked curious and hurt at the same time, and I'm just glad he has Jo to help him deal with everything. P.S. I love Jolex!
Lisa and Liv: Shonda mentioned Karev's growth last season, and now is his time to shine. This also will involve forgiveness. We also think Alex's facial expressions during the elevator scene showed there is a fine line between love and hate. Do we think that Alex is at Hallmark buying his dad a Father's Day card? No, but we believe that Alex will heal and get some closure and we will also understand the hurt and pain Alex has come from.
Steve: Justin Chambers will continue to shine as the unheralded but steadfast rock of the Grey's Anatomy cast. After watching him in this storyline so far, and throughout the past few years, that much I'm confident in no matter where the show takes the situation with his father.
5. April was nearly MIA. Did you notice?
Christina: I noticed and am actually glad she was sort of MIA. With a huge cast, it's understandable not everyone is involved constantly. In my opinion, less April is better.
Lisa and Liv: We love April Kepner, and so we did notice her in the OR and we think she was adorable in the scenes she was in. April is taking charge this season. We cannot wait to see her storyline with Jackson and Matt come to a head and also as a voice at Grey Sloan Memorial. We prefer seeing April in more scenes than Leah.
Steve: Not really, but that's more because of the storylines that took place than because Kepner doesn't bring anything to the table. She does, but sometimes everyone has to take a back seat.
What do you all think of this week's Grey's Anatomy? Share your responses below!