It feels like we're officially settling into Grey's Anatomy Season 10.
"I Bet It Stung" wasn't entirely emotionally-packed like the two-hour season premiere, nor was there a lavish party like the one we saw in "Puttin' on the Ritz". Nonetheless, it was certainly an hour of progression for the entire gang at Grey Sloan Memorial Hospital. 
So, what went down? Let's dive right it in – just like Meredith did.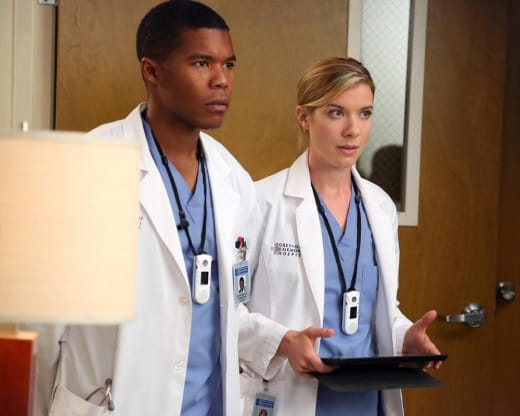 The last thing Meredith wanted to do was ease back into work. In fact, she dove right in and seemingly struggled to excel at being both a surgeon and a mother. Hurtful words were exchanged between Cristina and her best friend after the two became territorial over a multi-organ, groundbreaking surgery. Cristina called Mer out on being unprepared, unfocused and claimed she now had different priorities.
I thought it was harsh that she compared her to Bailey, Callie and even her own mother; however, did Cristina make some valid points? Yes. Have Mer's life changes affected her skills? Maybe. Overall, I felt like this conversation was worth having but hated the way Cristina went about addressing her concerns.
Push did come to shove, though. Meredith had to be there for Zola. One thing is certainly for sure: she is nothing like her mother, Ellis Grey. The fight caused Mer to stress out even more at home, and I hope the McDreamy's can figure it all out sooner than later. After all, this is Meredith Grey we are talking about here! She can so be a strong mom and awesome surgeon. I really hope she proves Cristina wrong. I know Cristina rocks and all, but sometimes I think all that talent goes to her head.
How long do you think it will take for the two besties to smooth things over? I think their fight is far from over and am eager to see what happens next.
Elsewhere, Catherine Avery was back and showing Richard to step it up and not let the interns coddle him. She was also doing her best to keep Stephanie on her toes. I honestly thought there couldn't be any possible saving grace for Stephanie when Jackson's mom walked into the on-call room catching the two in bed. Surprisingly, Catherine came around and I liked that Stephanie wasn't scared away and even tried to explain herself regardless of all that happened. Also, I think this was the first episode ever where I didn't find Catherine completely annoying. 
Meanwhile, Jo found herself overly involved with her new patient, who just so happened to also be Alex's dad. When the time came for Jimmy to be discharged, Jo tried to get Alex to change his mind about talking to him. Stubbornly, Alex didn't care at all. I really like Jo and the fact that she tried so hard to help Alex's dad shows how much she cares for Alex. Although Alex let him walk out the elevator doors, something tells me we'll be seeing his father again. Hopefully, Alex makes a change the next time before it's too late.
Lastly, I absolutely loved that scene with Callie and her patient's sister realizing that it was okay to say no. We hadn't seen a dance party on Grey's Anatomy in a long time. Thankfully, Callie had her own dance party – and yes, she was in her underwear! Go Callie!
Other thoughts:
I'm definitely shipping Jackson and Stephanie now. What shall we call them? Jephanie? Stackson? If you have a better idea, let me know in the comments.
Last week, Arizona had April to lean on. This week, we found out she also has Leah's back. I'm still not cool with Arizona, but we all need friends and I'm glad she has some now.
Be sure to check out the Grey's Anatomy quotes.
All in all, I thought this episode was strong as it centered on new friendships, relationships and even fights. As always, I'm ready to find out what's in store for our favorite doctors, but I'm mostly looking forward to see how Cristina and Meredith's fight affects them moving forward.