Criminal Minds Exclusive: A.J. Cook on Season 9, J.J.'s Backstory and the BAU Newbie

doug@mediavine.com at . Updated at .
Criminal Minds Season 9 begins this Wednesday. And in anticipation of the premiere, TV Fanatic sat down with A.J. Cook to discuss the coming episode, along with what happened with J.J. during those months in Season 6 when she was AWOL.
What makes this season different from the rest? What's with the new guy in the BAU? Read on for A.J's take on all that went down and all that's on the way...
-------------------------------------------
TV Fanatic: It's a real pleasure to meet you, particularly for two reasons: you're my favorite actress and you are from my hometown of Oshawa. So now I've got major street cred.
A.J. Cook: Get out! You're from Oshawa? Oh my goodness! I'm giving you a high-five through the phone! That's amazing. Pleasure to meet you.

[There was some banter about our hometown, but then we got down to business.]
TV Fanatic: So, AJ and JJ, what's the story there (with the initials)?  Happy coincidence or were the writers having fun in the back room or what's the deal?
A.J. Cook: Yeah, I know. It's a happy coincidence, funny enough.  I like to joke that they didn't want to confuse the little blonde girl with too many letters.  But that is not the case.  She was always going to be JJ.  Our old show runner Ed Bernero created the character and he named her that.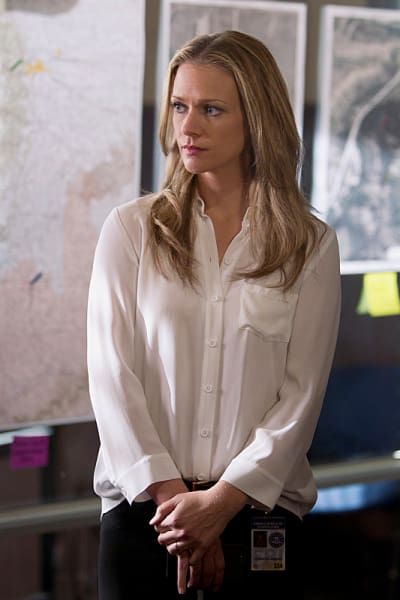 TV Fanatic:  Fans of Criminal Minds pay close attention when the writers decide to do some telling of back-stories. They're really invested in all of the characters. I notice in TV Guide that there was a mention made about Season 9 being "The Season of JJ", where we get to see some of her back-story, regarding those missing months in Season 6 when she went off to work at the Pentagon.  What can you tell us about this?
A.J. Cook: Season 9 is a season about all of our characters. We're looking at this season as a thank-you card to our viewers who've been there sticking with us through thick and thin.  So we're going to take Season 9 to get into the back-stories of all of our characters.  I think the reason JJ's getting a little more attention is because we really don't know anything about her., and there's so much mystery surrounding her in general.  With her leaving in Season 6 and working for the State Department, everyone wants to know who she is. 
We don't know about her family, we know she had a sister who committed suicide but we really don't know anything else.  So it's just ripe for the picking there.  It's going to be exciting.  We are going to take this opportunity to explain what she was up to that year that she went away. Essentially she went away as one character and came back a little tougher.  The interesting thing about this story with JJ is how much it's going to intersect with all of the other characters on our show.  Our writers are brilliant; their wheels are turning and there's this incredible puzzle they're putting together.  It's going to be especially wonderful for our die-hard fans because like you said - they don't miss a thing.  They're going to see things in our explanation of Season 6 where they're going to say "oh my God. I remember that! That explains that, and oh my gosh this makes so much sense now". So it's going to be really exciting, not just for JJ but for the whole cast.  I can't wait.  They've given me broad strokes and I can't wait to sit down and get the whole deal. It's really exciting for me as an actor to sink my teeth into something and explain what happened to her when she went away.
TV Fanatic: We saw JJ when she got married to Will and we saw her son, but beyond that we haven't see a whole lot. I suppose we'll see more of Will and Henry?
A.J. Cook: Oh, of course. Where there's JJ, there's Will and Henry. We're definitely going to see them again.
TV Fanatic: I notice there's a new face coming to the show. Esai Morales is coming to the show as Matt Cruz - what can we expect from his character? Is he as abrasive with the team as Strauss was in the beginning? Can we expect to see some sparks flying between him and the rest of the team?
A.J. Cook: Him coming on is going to raise some eyebrows for sure. And it's directly connected to JJ's storyline. We come to find out that these two know each other well. And we don't even attempt to explain why. So it's going to ruffle some feathers, because I think people immediately go to that place where they say "oh. A man and a woman! What is she doing? What's going on here?"  But they do have a relationship and they know each other very well.  We don't attempt to explain it for a while.  I think Esai's introduction is going to be in episode 4, and then we don't see him again until episode 9. So it's really the elephant in the room, and it's just dangling there, and it makes you wonder who the heck JJ is, and what the heck she is doing. So it's exciting.
TV Fanatic: People are going to start asking questions.
A.J. Cook: Oh, they already are. People will just have to be patient. How it's going to unfold is going to be wonderful. It's going to impact the whole cast, not just JJ. It's going to be a beautiful story.

TV Fanatic: Getting to your own career path for a bit. There's a YouTube video that I discovered today of what's said to be a deleted scene from Final Destination 2. The reason I laughed out loud when I saw it, was because of the title that the person put on it.  He put it as "AJ Cook - Swearing Her Brains Out"
A.J. Cook: *laughs*  Thank goodness that scene got deleted. My mother would not have been happy.
TV Fanatic: Was that movie a fun shoot for you?
A.J. Cook: Yeah, it was. You know, I wish I could go back and experience it again.  I was so "in my head" during it because I was so nervous and I had never been the lead in a big movie like that, and I think I was my own worst enemy.  I wish I'd just enjoyed it.  That's what experience brings you. When you try too hard, you're never going to get it right. You've just got to sort of let it happen and enjoy the ride.  That's definitely what I'm doing now, in my life.
TV Fanatic: You've played a lot of mostly dramatic roles (although Final Destination 2 could be considered a bit comedic if dark humour is your thing). Is there anything on the horizon for you in the strictly comedy realm? Has Saturday Night Live approached you or anything?
A.J. Cook: It would be my dream to go and shoot a comedy. The timing hasn't been right on anything yet, because our shoot (for Criminal Minds) is so long and our hiatus is really short. But absolutely - that's definitely on my list of things to do and hopefully that'll be next for me.

TV Fanatic: You were nominated for a Prism Award for your work as Libba in Bringing Ashley Home - which is based upon a real story. You also did Higher Ground which sort of revolves around the same sort of issues: mental health issues, drug addictions and so on. Was there anything in particular that drew you to these projects?
A.J. Cook: I'm always drawn to these types of characters. They're so gloomy but they mean so well. I think there's so many people out there who struggle with it. Any time you can shine a light on it and hope to help people out there, I'm all for it. It's such great material but even beyond that …real people suffer with it. Both of those characters were written so well and I had a great time shooting both of those movies.
Douglas Wolfe was a staff writer for TV Fanatic. He retired in 2016. Follow him on Twitter
.