On this week's Rookie Blue, "Deception" takes a dangerous turn, as the secrets at 15 Division begin to unravel.
In anticipation of the upcoming episode, Rachael Ancheril (Marlo Cruz) chatted with us about the challenges of her character's bipolar disorder and what it's like to be the woman keeping Sam and Andy apart. Scroll down for excerpts from the exclusive Q&A...
I hear you were a fan of Rookie Blue before you started on the show. Was it difficult coming on board such an already established show?
I was a huge fan. Actually, a quick side note, my education was in law enforcement. I wanted to be a police officer. Unfortunately that didn't pan out so I lived vicariously through the characters for the first two seasons. But coming in at season 4, having a cast and crew that's that lovely, they make it feel like you are part of the family within moments of meeting them. They were awesome. The first e-mail I got as soon as the cast contacts went out, I got an e-mail from Charlotte Sullivan welcoming me on board. They're just such an amazing group of people and they really make you feel like you're one of them right from the get go. So, it was wonderful.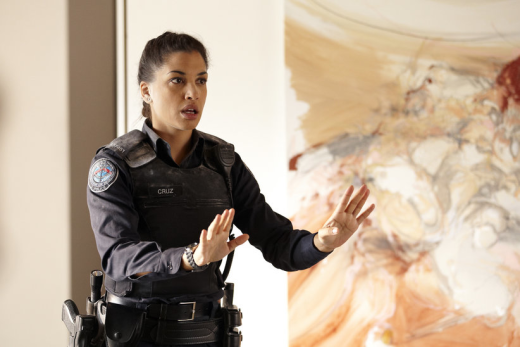 So it sounds like Charlotte Sullivan is nothing like her character, Gail.
Nothing like her character! She is honestly one of the loveliest actors I've ever met in my life. She's truly amazing. Yeah, nothing like Gail.

Even though Sam and Andy were separated at the end of last season, they're still considered the show's power couple. What was it like coming on as Sam's new girlfriend? Did you experience any backlash from the fans?
From what I understand fans sort of had an idea of what Marlo was going to be up to so I was a little bit worried especially when I met the fans for the first time. Some of them would come to the studio but they were great. They understood the difference between an actor and a character. They didn't really hit below the belt so it was great. But I understand. I'm a fan from Rookie Blue season 1 and I was always rooting for Sam and Andy so I get where they're coming from.

Marlo has quite a serious secret she's hiding from everyone. Had you done any research into bipolar disorder for this role?
I didn't know until the first meeting with Tassie Camerson (Executive Producer). I'd been hired for the role and Tassie and I sat down and she said, you know this is something that we're thinking about. What do you think?

It's amazing material to work with and I was definitely on board. I don't think she even got the sentence out before I jumped and said, yes, yes, I'll do it!  I did do a lot of research. The second I found out I started looking at what it meant because I didn't know or understand bipolar before I did this role. I didn't know exactly what it meant. The writers gave me this huge file of research that they had and then I watched this awesome documentary with Stephen Fry (The Secret Life of the Manic Depressive). I went online and read people's stories and it was amazing. It was so eye opening for me. I felt very confident going into this season and doing the episodes and understanding where Marlo, as a bipolar character, where she would be.
Do you think Marlo is able to manage her bipolar disorder and be a police officer?
To be honest with you I think she could have but I think being in a relationship for her complicated things a little bit. Definitely. And I think in this episode on Thursday she talks about that. I think you'll get your answer on Thursday.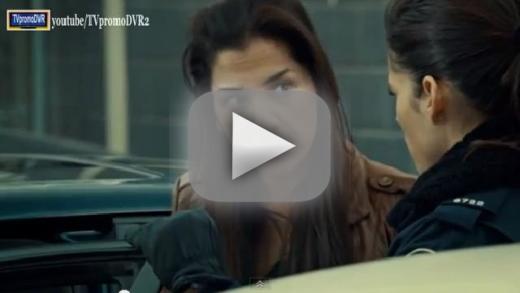 It looks as though things are coming to a head for Marlo in this episode. Are there any spoilers or anything you can tease us with?
Well I can say this episode is definitely going to be putting the relationship between Sam and Marlo to the test. Sam ultimately puts his relationship first and that could jeopardize his job. What else can I tell you? I think that Andy as well is put in a very awkward situation and she may need to open up about Marlo's secret. She's been keeping hold of this secret for Marlo out of respect for her and she may not be able to do that any further. So this episode's a big one for Marlo.

Does Marlo believe Sam is over Andy?
I think that women's intuition is very strong. Generally we kind of know. We can sense what's going on. But when Sam says to Marlo that it's in the past, that I'm over it, I think that she really wants to believe that what he's saying to her is the truth. And if he's saying that to her then she's going to say, OK lets go forward. I think that some of the angst that she's felt when Sam and Andy have been together has been since Andy found out her secret. That's more her concern. Is he going to find out? Is she going to tell him? They were very close. They dated. I don't think Marlo knows the extent of the Sam and Andy relationship like the audience does and like the other characters do because she's new. I don't know that Sam would have actually opened up to Marlo about this woman who's the love of his life.

I've certainly had a few favorite Marlo moments this season. Have you had a favorite episode or scene thus far?
I had an amazing time with Missy (Peregrym) filming episode 405 "Poison Pill."  We had such a good time together that episode. We bonded, definitely. I'm not much of a locker room gal. I'm not getting down to your underwear and bra, you know. We had some great laughs with that and we had Big Macs after (the episode) which was amazing. So I have to say that that's been my favorite episode but there's been a couple of scenes with Ben (Bass) that have been so fun to film. The painting one was definitely one of them. That was the night of my birthday and right after we wrapped that scene everyone sang happy birthday to me. It was really special. Those two times will always stand out in my mind as great memories.  

C. Orlando is a TV Fanatic Staff Writer. Follow her on Twitter.

Tags: Exclusives, Rookie Blue, Interviews