Perception Q&A: Rachael Leigh Cook and Scott Wolf on a "Messy, Real" Relationship

Sean McKenna at .
They may have helped crack cases involving aliens and simple human error, but for Kate Moretti and Donnie Ryan, there's far more to their relationship than working together to put bad guys away.
Did I mention they used to be married?
I spoke with Rachael Leigh Cook and Scott Wolf over the phone recently about Kate and Donnie's relationship on Perception, the non-work side for their characters and Kate's more personal involvement with tonight's episode, "Wounded." Read on for excerpts from our Q&A …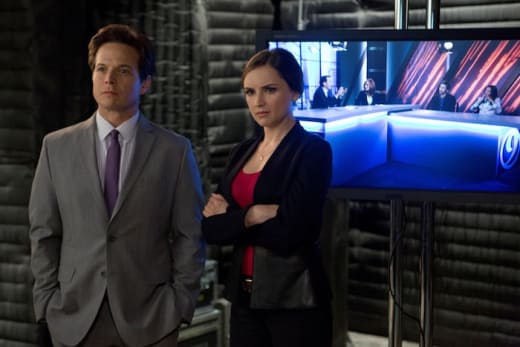 What have you guys enjoyed about exploring Donnie and Kate's relationship this season?
Rachael Leigh Cook: I love that we can make a procedural show every week, and that because of the introduction of this aspect of their characters' personal history that we get to dive into these characters as people and not just who they are on the job. That's been such a gift this past season.
Scott Wolf: I would just add that that this was one of the things I was most excited about in joining the show that the procedural element, and the cases and the intricacies of Daniel's mind, his work and his relationships are so interesting, but the characters are so interesting unto themselves. All these relationships have kind of blossomed in a way. I just love how imperfect everything felt at the beginning and even for me, even though people might be moving back toward each other, it all feels messy and real. I'm just a huge fan of that. It feels constantly surprising and authentic in a real human way.
Was that one of the reasons you were attracted to the character of Donnie?
SW: Yeah, very much so. I like playing well written characters and on top of that to play a guy like this who is not quite sure who he is and it challenges his character that way in that he seems willing to do things that a lot of people might think are too kosher or a little mean or a little selfish. To play a guy on the surface who is so imperfect and to try and find some redemption through all that, I knew would be a great character and a lot of fun, and a credit to Rachael being so great to work with and to the writers for writing a really interesting story. And a patient one. Stuff like where Donnie shows up in ["Ch-Ch-Changes"], and in ["Blindness"] he was half as jerk-y, and then over the course of the season, they are coming slowly back together. They've really taken their time with it and the story is still evolving. If we're lucky enough to keep going, I hope I'm lucky enough that Donnie remains a part of the show.
Do you enjoying working in scenes with all three characters at once, or do you enjoy the one on one moments with each other?
RLC: It depends on the scene. I couldn't pick. I think that the dynamic when there is three of us is much more interesting than when there is two, but I love having Scott's character around this season because I get to show such a personal side that I don't get to week to week. I love the scenes with [Scott] and Eric [McCormick] also because it brings out such interesting things for Eric's character that we would never get to see normally. There's many many facets to Daniel Pierce and I love it.
SW: I think that both the scenarios are fun, there's just a slightly different color to when these characters are all together or one on one, but the ones with the three of us, there's a real dance to that and adds a spark to the season and their relationships have evolved. I think to be playing scenes where the three of them are in the space together, they are working on a case. They aren't usually out at TGI Friday's having chicken fingers because there's work to be done. But I'm also pitching that scene because I think it would be awesome and I like chicken fingers.
There's always a case they have to work on, so there's this professional persona they have on, but there's always great fun personal stuff percolating underneath. Rachael and Eric obviously have a great understanding of the characters they are playing, but I think there was such clarity as to who our three characters were to each other, that we were really free to play in those scenes. Some of my favorite moments in the season are when they are in each other's face and having to figure it out.
Rachael, any special preparation for having a more involved and personal role in the upcoming "Wounded?"
RLC: I know who Kate is in her work life; I've been able to explore that, over the course of two wonderful seasons. What else can I show here to round her out more as a person. Do I let her feel like more of who I naturally am, do I try and make her somebody that is very similar to the way she carries herself at work? I think I ended up somewhere in the middle. It's a tough balance, and I'll be honest, I haven't seen the episode, not because I can't, but because I'm a little scared. I'd rather watch them edited and all put together. I hope the creators and viewers are happy [with the product].
Tune in tonight for a classic he said, she said case where things get a little more personal for Kate, Donnie and Daniel on Perception at 10/9c on TNT.
Sean McKenna was a TV Fanatic Staff Writer. He retired in May of 2017. Follow him on Twitter.