It really is true, Vampire Diaries fans: Bonnie is dead.
The Season 4 finale revelation was not a fake-out, Kat Graham says in a new interview. Bonnie truly has taken a trip to The Other Side.
"The show starts where it left off," the actress tells The Hollywood Reporter of The Vampire Diaries Season 5, adding with emphasis: "Where the only person that can see her is Jeremy because he can see dead people."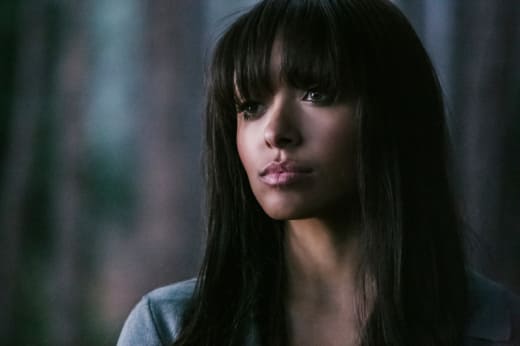 Expect to see an unusual, tight bond between Bonnie and Jeremy due to the former's state, considering she'll be cut off from everyone else in Mystic Falls.
"She loves her friends and family and she can't connect to them, and it creates an intimacy relying on one person as your connection to the one thing that matters the most to you," Graham teases. "It's a really beautiful thing to see. She only has him at this point."
We can also expect the series to take us somewhere new this fall, somewhere that has only been discussed in the past: The Other Side.
"That's something new for the fans. They'll be able to see that side that hasn't been explored yet," Graham says.
The Vampire Diaries Season 5 kicks off on Thursday, October 3 and Graham adds that she truly has no idea if Bonnie will ever be resurrected.
Matt Richenthal is the Editor in Chief of TV Fanatic. Follow him on Twitter and on Google+.