Well, hello there Chris Zylka, and welcome to the wonderfully Twisted world of Green Grove!
Maybe it was Zylka's sexy presence. Or something was in the water. Because it seemed like everyone was hot and heavy in "We Need to Talk About Danny". Unfortunately for Jo, her makeout session was only a dream..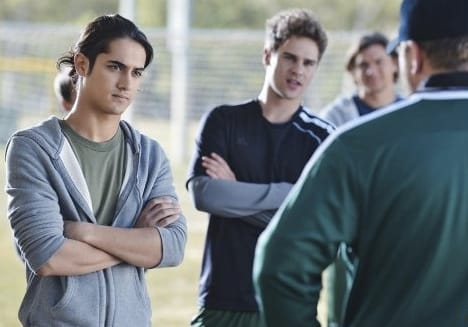 It only took six episodes but Jo finally admitted that she had feelings for Danny. According to what she told her mom, it's not just a little "crush" either. Jo is in love with Danny. What will be crushing is when she finds out about Danny and Lacey's secret affair. Now that Lacey finally gave Archie the boot she and Danny are SO ON. (P.S. Grey Damon, call me!)
You think I want to have a crush on Danny? It's awful. Snap me out of it. | permalink
As hot as it was to see Lacey and Danny finally go all at it with the makeouts, there was seriously nothing creepier than the fact that they were rolling around on top of the grave...of Danny's aunt who he murdered. Getting down and dirty in the cemetery, what is this True Blood?
Maybe Zylka's Tyler can help ease some of Jo's pain. He seemed to take an interest in her. I fully support this. Jo needs to socialize a little more and Rico has been pretty pissed with her lately. I'm guessing it's because Rico just has a crush on Jo himself. I think it's good to have a more rounded out cast of characters on the show. Maybe with the introduction of new people we can toss Serita? Who is she to tell Lacey she needs to choose between friends? 
Serita also seems really determined not to discuss Regina anymore, almost to a suspicious point. Phoebe doesn't seem to mind. Regina was their friend, it's only natural to have memories. I'm glad that Lacey and Jo owned up to the secret about Vikram and Regina. Danny needs to be kept in the loop if he has any hope of clearing his name.
That said, he also needs to keep them in the loop if he wants their help. I feel like he revealed at least a tiny bit more tonight when he said his father and Tara hated each other and Tara had the ability to ruin their family. It connected a few dots, yet still made Danny look suspicious. If Regina knew why he killed Tara then she knew whatever it was that had the ability to ruin Danny's family.
I also think Tess knows more about Vikram than she lets on. She clearly had history with him as evidenced by last week's awkward conversations with Karen. So now that the necklace has been recovered, what do you think the next turning point will be? Who will spill more secrets? Whose dirty laundry will air?