Teen Wolf went the Memento route of storytelling this week - and it was more than just "Frayed."
The episode was so disjointed it was practically impossible to keep everything straight. Timelines were crossing in various places and we were trying to paste them together to get a fully formed understanding of the big fight that Scott thought left Derek dead.
I'm all for artistic storytelling, but given the season so far, this was just one more annoyance in a series of them. It wouldn't hurt to have a straight out, well-told hour of plot for one freaking week. There was layer upon layer of memories being revealed and it was just too much for the narrative.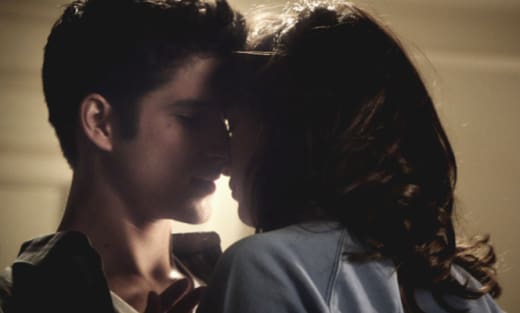 Outside of the fact I hated the way the program was laid out, there were some really good moments to be had. When Scott initially approached the pack and asked they consider a different way other than flat out murder every time they attacked a situation, Peter asked if anyone knew what happened when a head of a hydra was chopped off. He and Scott were on the same plane in their thinking that killing Deucalion would only make more alphas crop up in his wake. 
That wasn't Peter's only great moment. His encounter with Cora and their dual mistrust of each other definitely had me on his side far more than hers. We know where he's been and his capabilities. She has six years of missing time to account for and that makes her a wild card. 
Also great was Scott going to Allison's with the arrowhead he found. It wasn't a very strong try on her part to blame the non-existent archery team... and their fight scene was rather erotic. It's about damned time they found their way back to each other. After the fight, Allison wouldn't let Scott out of her sight. Her attempt to stitch him up when his alpha scratch wounds wouldn't heal reeked of familiarity we haven't seen in a while.
As she faltered, the one person she didn't expect to help her help Scott popped out of her psyche to spur her into action. Her mom. That was a really intimate touch that resonated with me in a way nothing else her mother ever did while she was alive. By far my favorite scene of the episode.
The remaining alphas, sans Deucalion, took that beefy tattooed alpha (Ennis?) to Dr. Deaton after the fight to be saved, and he managed to bring him through the hard stuff. But it appears a commenter from last week was right: Duke might be getting greedy. For no reason that I can think other than to absorb his strength he crushed his skull with his hand. 
So, definitely some good things happening. As for things I could have done without?
The obligatory toenail scraping of pedi-alpha. Couldn't she have just died? 
The twins always fight with their shirts off. Really? Is that because they have nothing else going for them but well toned torsos?
They dropped the ball on the druid story for the majority of the hour, so we don't even know if they found the teacher in the woods. Weird.
Mr. Argent just turning his back on the fighting going on in town is ridiculous. First, his daughter is asking him to get involved, which means he knows she's going to break their pact. Second, his family has been doing it for generations. Could he really just turn it off? Thread the needle my ass.
Lydia has always been a doofus, but not an idiot. When someone says the twin is one of the evil alphas, she wouldn't go out and screw him. There better be more to that story.
There wasn't nearly enough Isaac. Utilize the greatness that has become Isaac. If they need to know what to do with him, pair him up with Peter to solve crime.
So what's left?
Scott has red eyes during the fight. Was that indicative of his alphahood? What, exactly, is the determining factor? From what I know, other than being the leader of the pack, there hasn't been too much information how someone becomes an alpha or why. I assume we're about to find out.
Finally, did anyone think Derek would really be dead? He's DEREK. He's out of his league and lost this season, but he's not going to die. He's going to need to be a little less alpha, though, because he's being shown up left and right. With the return of his sister, his head is not in the game. Now he has a love interest in Ms. Blake. He's going to have to give up some power or they'll all die. Plus, I like he and Blake together. It's strange but somehow it just works. 
You've been waiting for this... it's your turn. Let loose Betas and Omegas!! Grrrrrooooowwwlllll.....
Carissa Pavlica is the managing editor and a staff writer and critic for TV Fanatic. She's a member of the Critic's Choice Association, enjoys mentoring writers, cats, and passionately discussing the nuances of television and film. Follow her on Twitter and email her here at TV Fanatic.