With a new lease on life in Drop Dead Diva Season 5, I can't help but wonder if the show decided to hit the reset button on stories they thought they were going to tell this season.
Maybe it's the budget cuts; maybe it's a stipulation of Lifetime. Whatever the reasons, last season's massive finale is basically written off at this point. The only item that remains is the love triangle.
"The Real Jane" brought Old Jane, now Brittney, back in the picture - but instead of taking everything New Jane holds dear like she said she would, Brittney just wants to close the one case that's been bothering her all this time.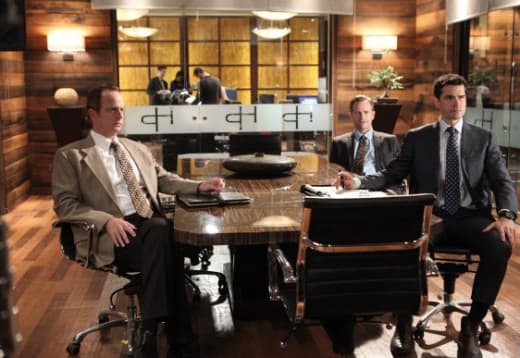 The more I think about these new developments, the more I like them. From past flashbacks throughout the series we've come to see "Brittney" as a woman that kept her nose down. She never rocked the boat and she always worked as hard as she could to get where she was. For her to want to enact revenge on Jane for something that was out of everyone's control doesn't make much sense.
If Deb never hit the return button, then Jane would just be in the ground. Instead, both women got second chances.
More than anything, it seems Britney's original proclamation to take back her life are those first day jitters of coming back to life in a new body. Jane did the same with Deb's old life. The longing to get as close as possible to what they both knew and felt comfortable around, but Jane's best advice to Brittney was to make the most of their second chance.
At this point, they both found the courage to move on. Jane was able to show Brittney the ins and outs of her new body, while Brittney was comforted to see that her legacy is being carried on admirably. For all of their differences, both women are more alike then they would ever really admit.
Not everyone in the firm was able to get such a happy ending, though. Parker is now officially gone, and while the character has not been written out completely – he still has his shares – there's not much he'll come back to aside from a very mad Kim. It's an unfortunate circumstance of the budget that Parker has to go. It's sad that this is the way he is written out – essentially choosing one child over the other. It's an impossible situation, but it's still terrible.
The faceoff between Grayson and Owen is going to be awesome. I'm all for a rough and tumble love triangle, and while I'm ultimately rooting for Grayson to win, I'm in no rush to see the resolution (although I would probably place my money on the resolution happening this season). Seeing the two guys sparring today was plenty of fun.
Jane is trying her best with them, but, deep down, I don't think there's any question which man her heart really wants. Brittney could see which man she wanted, and she's only really known Jane for a day.
It is a season of reinvention and second chances, after all.
Odds and Ends
Someone call RuPaul! Layana DeSheets is one awesome drag queen. I hope she makes a return visit. I don't want to see her sashay away.
No Guardian

Absel

Angel Paul tonight. Which is unfortunate because I wanted to see him interact with Brittney.
I did not care for the AG. You would think he would be willing to look into the evidence further.