Scandal Season 3 Scoop: A New Identity for Quinn?
Jim Halterman at . Updated at .
Sitting down with Katie Lowes shortly after the ATX Television Festival screening of the Scandal Season 2 finale was, in a word, surreal.
On screen, we've all spent the last season watching Quinn turn darker and darker, especially in the latter part of the season when she became an all-too-willing (and talented) protégé of brutal-killer-with-a-heart, Huck (Guillermo Diaz).
But viewing the scene where Quinn takes the drill from an emotionally disabled Huck and finishes the job of "helping" someone reveal vital information was equally thrilling and horrifying.
Now that some time has passed, how does Lowes feel about Quinn's journey in season two? And where does she think things might go in this fall's third season? I let Lowes do the talking this past weekend in Austin...
----------------------------------------
TV Fanatic: Now that season two is behind you a little bit, can you even reflect now what you went through from the beginning to the end?
KL: No. It's amazing to me. I think that a lot of times in television people come on as a character and they stay that way for seven years or however long they're fortunate enough to play the part. If you're the snarky character, you're the snarky character. If you're the girl next door, you're the girl next door. What's amazing about Shonda Rimes is that she doesn't ever let you pocket or pigeonhole anybody.
The journey that I have been able to go on as an actor in 29 episodes of television is absolutely astounding, and awesome, and I can't believe the things I've gotten to do. Like I got to be this wide-eyed, bushy-tailed new girl. I've always wanted to play that part. And in a parallel sort of way, it was paralleling my personal life. Like this was my first big show, learning from Kerry Washington, and Darby [Stanchfield], and just that's where Quinn was also.
It turns out she fits in with Huck, which is awesome, the most unlikely duo ever. And now we're this duo and I don't know where we're going to go from here. I really don't. In the end of the finale, I didn't know if he's so upset with me that I crossed this line that I now torture people, if he's upset at himself for training me so well, if it's going to be my new job because he can't do it anymore…if I have to start going to AA meetings, or if we're going to be romantic interests, if we're going to hate each other. I have no idea.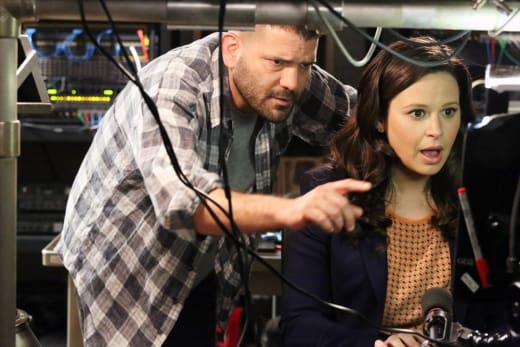 TVF: Watching the season two finale again, when Huck goes back to sit in his little space, in his mind he's going 'I created a monster.' That's what I think.
KL: You know what's amazing is that that is what was said in the script in between the lines. 'What have I done? I've created a monster.'
TVF: But there's a point, I think it was the 752 episode, where he says, 'I've done terrible things' and I'm thinking 'Quinn could be one of them.'
KL: That's brilliant and it's true. He's created a monster and I don't know how you go back from that.
TVF: Do you think Quinn is still going to be looking for an identity next season?
KL: No, I definitely think she's looking for an identity. I think that she likes being good at things. I mean, before Quinn Perkins was Quinn Perkins, she was an A student. She had the best boyfriend. She doesn't like to not succeed. She likes to be good at what she does, and she likes to fit in, and she likes to belong, like everyone. I mean, I think when Huck was training her she was like okay, I'm going to do this to the best of my possible ability so that I can impress you, and I can prove myself in this office where everyone is really good at what they do. In my heart, I think she's definitely going to continue to try to be on that path and find her new identity.
TVF: With Quinn using the drill for the first time in the finale, you've said Quinn's reaction was very organic but my question is: did you have to tell yourself, Katie, not to overthink it?
KL: Yes. I tried not to think about it at all because it's hard to start to imagine in your mind what it's going to feel like to have a drill in your hand, and blood on your face, and a dude tied up, hogtied, completely naked. Like I've never been in that situation before. But guess what? I'm about to shoot a television show where they're going to recreate it, almost perfectly, aside from actually drilling him, right?
So I'm like I'm just going to show up in this situation and I'm going to let that feeling overcome where I'm going to be like Huck. 'I got this. I can do it. It's okay. You don't have to. I'm going to do it.'
TVF: I love that moment when we see that turn in Quinn's eyes.
KL: And then when it happened I was like 'oh, this is awesome.' Like 'I have never been this powerful in my life or have had this much control over a man or a person ever before' and it's a real adrenaline rush. And I felt like 'oh my gosh, I did it, I did it.' So I don't know where you go back from there.
TVF: The last two years have been a whirlwind for you. Do you think it's changed you at all because of celebrity or people maybe recognizing you more?
KL: That's a whole new aspect of my life that I never had to think about before like 'oh, you can't go to a movie theater and pick your nose because someone might catch that.' Or you can't go to Loehmann's anymore, and go in the all girls changing room, and just get buck naked like I used to, and try on expensive stuff that's on a rack for cheap. Like there are some things that have changed in that way, of just an awareness, that people know who you are.
But I still am so shocked when someone comes up to me and says 'oh my gosh, are you on Scandal?' And I always say the same thing. 'Thank you so much for watching the show. Can you please tell ten more people you know because it's the best job I've ever had in my life, and it's like lightning striking for this to succeed and for this to go well, so I just want it to last as long as possible.' And that's how I feel about it. Other than that, no.
It's so funny, though. Being here in Austin, Connie Britton is a huge celebrity here and I babysat for her and I was going to be her personal assistant a week before I auditioned for Scandal. And it's just amazing to look back. It's rare. It's a really hard business and I've wanted to be an actor since I was born. I came out this way. I never chose it. I've been singing, and dancing, and acting, and performing, and saying look at me for as long as I can remember. And I've had a lot of terrible jobs to get here. And I just am really trying to enjoy it…it's almost scary. You're like 'is someone going to find out?' When's the other shoe going to drop? I'm going to get fired. I'm like 'this is too good.'
TVF: Have you any opportunities open up? Film roles or other things?
KL: Yes, I'm doing a small part in an animated movie called Frozen at Disney. And this is my first hiatus from being on a show that people actually watch and so I have had my first big movie auditions. Nothing to report yet, but the fact that I'm getting it…I never got into these rooms before. It's amazing being in a room and being considered with other women who are my age and just killing is just awesome. And I would like to stay here. And hopefully one of those people, like Shonda Rimes, will give me a chance.
Scandal returns for Season 3 this fall on ABC.
UPDATE: And here is some new scoop related to it... Scott Foley will be a series regular!
Jim Halterman is the West Coast Editor of TV Fanatic and the owner of JimHalterman.com. Follow him on Twitter.