Peter Sarsgaard Previews Season 3 of The Killing, Dark New Role
Jim Halterman at .
Are you among those who felt a little burned by The Killing during the first two seasons? Especially the way the murder of Rosie Larsen was handled?
You can rest assured that the third season of the AMC drama that defeated cancellation is back in solid form, thanks a new story the network promises will be resolved by season's end.
Some time has passed since event on the Season 2 finale and Sarah Linden is no longer working as a homicide detective. But when former partner Holder comes calling in need of her help with a case, she gets pulled back into the dark world of murderous crimes once again.
Even better this season is that Peter Sarsgaard, who we usually see in films and on stage, takes on the key role of Ray Seward, who becomes vital to the case and who will leave viewers with more than a small chill due to his still, yet dark, demeanor.
Sarsgaard and I talked on the phone last week and while he did not give up any spoilers, he did talk about his approach to playing his character...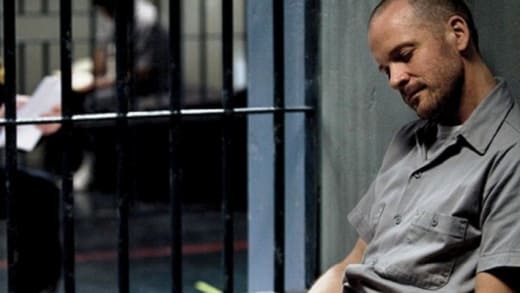 TV Fanatic: Tell me about that first chat you had with Veena Sud (Creator/Executive Producer) about this character and how much you knew going in.
Peter Sarsgaard: I knew the arc of the character. I knew the beginning, middle, end, but I didn't know many specifics. I was a fan of the show so I trusted her. I liked the surrender of doing it. Honestly, with a movie, you read the entire thing and decide if you want to play the part. You often know more specifically how to navigate your role.
One of my favorite actors and a mentor of mine, Austin Pendleton, once said that he hadn't played a character arc since the 60s and that the whole idea of playing an arc is a superficial convention anyway. People don't live in arcs…because I didn't know much playing it scene to scene and episode to episode, it allowed me to be a lot more surprised than it would be had I known everything going in.
TVF: You've played your share of dark characters in your career. Were there unique instances or challenges that you hadn't come up against before?
PS: I think the not knowing all the details of everything to do with him. Normally, a lot of my preparation as an actor is really developing a very, very full story and I did some of that with what I knew but oftentimes I would get a new script and go like, 'Oh, he's from here…' or 'that's who his family is. That's interesting.'
I had a specific idea of where I was coming from but it just didn't always match up with what the story was but it didn't  really matter... it's like you know a kid and he seems like a good kid and the next thing you know he's raped some girl. Everyone in town goes 'Oh, he was such a good boy. Everyone loved him. What happened? What made him do that?' Who the fuck knows? Life does unexpected things and people do things for really wild and spontaneous reasons.
TVF: Would you call Ray a villain or bad guy? What do you think in terms of labeling him?
PS: I don't think of him as a bad guy or a villain. Like 'Boys Don't Cry,' for example, I loved that guy. [Sarsgaard played John Lotter in the 1999 film] He killed people and raped people, but I understood why. I wished he wouldn't but he was once a baby like everybody else so I had an understanding of him.
That guy in particular had an IQ of 70, for example. The guy that he committed the crimes with – Brendan Sexton III, by the way, played him in the movie and was in the first two seasons of [The Killing] - that character had an IQ that was way higher so, of course, when judgment came down, the guy with the really high IQ was smart enough to turn evidence against the other kid and the character I played got the death penalty and his character got life in prison. But which one was more the villain, really? When I go to look at it, I would say the other guy was more malicious in his behavior but I'm sure he had reasons for doing it, too.
TVF: From what I've seen, there's a real stillness to Ray. Is that a tougher challenge to play that quiet side of the character or just as challenging as when you're not confined to a prison cell?
PS: I guess sometimes if you're moving around a lot you think you're more entertaining [laughs]…a lot of times if I'm very still in a shot I'll find it really amplifies auditory stuff. I notice my surroundings more.
TVF: I was waiting to see a scene with you and Mireille Enos. How was it acting with her?
PS: I was so psyched to act with her! That was one of the main reasons why I wanted to do the show. I think she's fantastic. I think she's so original. And she's so strong, I mean physically, too…there's a strength of personality and conviction and there's a lot of pushback when you act with her. You're not going to knock her down. A lot of women that make their living acting make their living by getting pushed down so it's great to work with someone who doesn't do that.
TVF: Is it safe to say that that relationship between Ray and Linden is a driving force of the new season?
PS: Maybe…
TVF: I'll take a maybe. That's better than a no.
The Killing kicks off season 3 with a two-premiere tonight at 8 p.m. on AMC.
Jim Halterman is the West Coast Editor of TV Fanatic and the owner of JimHalterman.com. Follow him on Twitter.