Necessary Roughness Season 3: New Look, New Faces and... John Stamos!
Jim Halterman at .
Could Necessary Roughness Season 3 go down as "The Year Of Stamos?"
Possibly. But John Stamos joining the cast of this USA Network hit is far from its only addition.
The third season of the USA series is full of new twists and turns (and a glam new set) that has injected it with a rejuvenated life, attitude and an oh-so-slightly skewed direction that should ensure a long healthy run.
But let's start with Stamos, who is known to make audiences swoon... but also seemed to have the same effect on his co-stars when I stopped by the Atlanta set last week.
"I cried tears of joy," Callie Thorne said when she first heard Stamos's name come up as a possible addition to the show as Connor McClane, the head of a talent agency called V3 that not only hires Dr. Dani, but will also sign TK (Mehcad Brooks) and newly-out athlete Rex (Travis Smith).
"I'm not gonna lie," Thorne gushed between shooting scenes. "I was a fan of him from General Hospital. I mean, come on! And through the years, I've loved watching his career evolve in a pretty amazing way."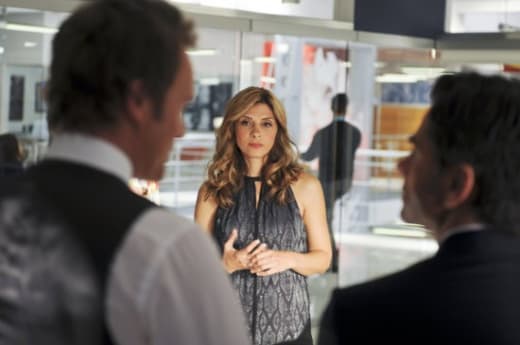 For Brooks, the actor gushed about working on scenes with Stamos: "He and I just find things in scenes that just aren't on the page all the time. [The writers] sort of started writing for our relationship as well because it's this really cool chemistry…we're both kind of like lounge lizards trapped in a different era, so it's just fun. It's just a lot of fun."
Stamos himself said he agreed to join the show was after watching some episodes and wanted to work with Thorne. Another appeal was that Connor - initially at least - isn't clear cut.
"I think what's going to end up is whether the audience thinks I'm up to nefarious activities or not," he said. "Connor believes in what he's doing and is doing the best."
But the big question is this, of course: will we see romance blossom between Dr. Dani and Connor? "I'm pushing for it," said Thorne. "It doesn't mean I get it."
However, could Stamos actually end up being the bad guy this season? Or is it less about one bad person and more one powerful agency?
"Any giant corporation, they have their secrets perhaps and this is a big company," Executive Producer Craig Shapiro said of the fictional V3. "Let's just say that there's always intrigue in these kinds of places with lots of maneuvering and lots of potential jockeying for control. That leads people to do things that are possibly not quite on the up and up, to put it that way. And there's a lot of huge amount of money at stack."
With the addition of Stamos – as well as David Anders as Connor's tough-as-nails right hand man and Karissa Lee Staples as Dani's new assistant – Shapiro doesn't see the show as being that different in season three: "We didn't blow up the premise," he said. "We just moved it a little sideways. It's a logical evolution. That's what we're calling it."
While we'll see Marc Blucas's Matt depart at the end of the season premiere (Blucas is moving on to ABC's new series, Killer Women), Dr. Dani will find herself immersed in the troubled clients of V3 - but when looking across a crowded room at the offices, who will she spy but the ever-mysterious Nico (Scott Cohen), who disappeared at the end of Necessary Roughness Season 2 without a word.
Dani predictably isn't happy to find Nico at V3, but he also has his concerns with her new presence at the company. "There's a major problem with it," Cohen explained carefully, not wanting to give away too much. "There's a major problem because of why Nico's there and how involved Dani's about to become. Nico's really about protecting her but he's finding himself between a rock and a hard place."
And while both Cohen and Thorne were coy about whether we'll pick up the romantic sparks between Dani and Nico, the actor did reveal: "I personally think Nico's very much in love with Dani and I think that he keeps everything close to his vest…[but] he knows that he can't enter into anything that might suggest a romantic interest in her. Because that poses more problems for her and he's more concerned about her safety and her protection than anything else."
Speaking of romance, ladies' man TK will finally have a serious love interest this season: a V3-repped supermodel played by Kate Miner. "So there's some love in the air and there's some sex in the bed," Brooks said, grinning his fabulous grin.
With - SPOILER ALERT! - Dr. Dani fired from her job at the Hawks, will TK have to let go of his favorite shrink who helped him grow up in the first two seasons of the show? Of course not, which is one of his motivating factors with wanting to be repped by V3.
"He needs her in his life and I bet if you ask her, she probably needs him in her life too," Brooks explained. "So friends or whatever you want to call that, they're two fish out of water again and they're sort of swimming in the same sea always."
One bonus to the new season? Starting with the airing of the third episode, webisodes featuring Brooks and Smith's Rex Evans will appear on the show's website. In fact, Cohen directed one of the webisodes while the others were directed by series co-creator Liz Kruger. "We did this sort of campy, soap opera acting on purpose," Brooks said of the webisodes, "and made it really dramatic and all these different things."
Necessary Roughness returns tonight at 10/9c. Visit TV Fanatic for a full review immediately after it airs and FYI:
Go to Twitter for live tweeting of the premiere with @JohnStamos @MehcadBrooks, @ScottECohen, @Karissaleelee, @NRseason3 (Production) and @KingOfTheHawks - and also @TVFanatic!
Jim Halterman is the West Coast Editor of TV Fanatic and the owner of JimHalterman.com. Follow him on Twitter.