As Michael is pushed closer and closer to the edge by Burke, I wasn't sure what the breaking point was going to be - but we found that all the rules changed by the end of "Brothers in Arms."
I freely admit that I am/was a card carrying member of the Randall Burke Fan Club. Regardless of his methods, he showed Michael more loyalty in his final moments that the CIA has in the last seven years. 
How could you not like him? His team is his family, just like Michael, and he was willing to do anything (including blowing himself up) to keep his word and not leave Michael and Sonja behind in the hands of the Russians.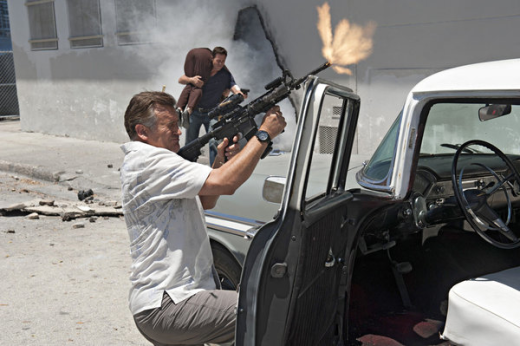 Though he wasn't around long, Burke will be missed. I really liked how he was a "Yin" to Strong's "Yang." Where Strong is by the book and technically the "good guy," Burke was more on instinct and clearly working for some unsavory people. 

Now I'm curious what Michael is going to do if he can't find the Russian woman he rescued. Will Strong consider their deal done with Burke dead? Is he going to get "another" assignment? One thing is for sure, I was completely wrong when I theorized that Burke would be the main bad guy this season. 

Back in Miami, Fiona and her new kidnapping assistant Madeline were on the case, making it look like a Russian Spy had turned on his country to help Michael (of course). Ivan (JB Blanc) seemed like he was a chunky Russian "Michael" in a lot of ways, and I was thrilled to see that Madeline and Fiona had a bit of a heart and helped in the end instead of leaving him to be killed. 

Now, if Fiona can just get over being angry at Michael and Michael can get his ass out of Cuba, they might have a chance. Overall, I'm giving this episode 4.5 exploding laptops in memory of Burke. 

What did you think of the episode? Were you a fan of Burke? Or are you glad he's gone? 

Jim G. is a TV Fanatic Staff Writer. Follow him on Twitter.

Tags: Burn Notice, Reviews