I've started and stopped and erased and restarted this Revenge review at least four times. That's how many directions my brain is going in as a testament to the fact that "Engagement" was such a good episode I can't complete a coherent thought.
Seriously. So good.
I have so many questions right now, chief among them?
What did Aiden just do?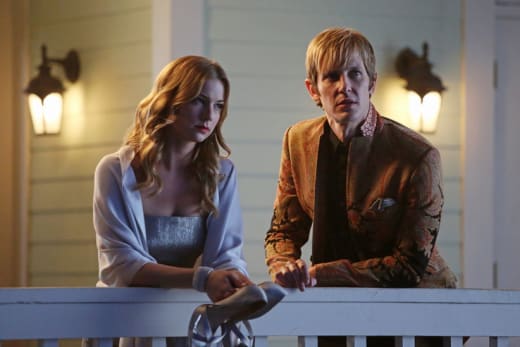 Aiden killed Takeda, guys. Killed him. With a sword through the throat. Maybe chest. But Aiden killed his mentor.
I had to slap my hand over my mouth and stifle a gasp.
In Aiden's defense, Takeda did try to kill him first. And he sent a file to Daniel to reveal Aiden's identity as the son of Trevor Mathis, baggage handler. And Takeda told Aiden to leave Ems alone because this was her mission to complete by herself.
(And he wasn't the real Takeda anyway. Did you Revenge casting people think we wouldn't notice?)
The way Aiden kept talking to Takeda, it was like he had been with Takeda for longer than Emily, but that's not true since she's the one who asked Takeda to help him when she was sent on her first mission and ended up rescuing Ashley. But still, he seemed to feel that Takeda would never be done with them, so he took matters into his own hands and decided that they would be done with Takeda.
I can't even begin to think of how Emily will react when she finds out that Aiden killed Takeda. Sure, she was mad at Takeda for telling her that she needed to get rid of Aiden, but I can't say she'll be pleased to learn of his untimely demise.
Now that he's dead, I'm more interested in him than ever. What was his plan that seemed to be greater than Emily's? What did the Initiative take from him? What nefarious scheme was Aiden alluding to right before he took Takeda out?
All of these questions and no Takeda to answer them. And no electricity for Nolan to use his hacker Google to find out.
The Fa1c0n, ever the tricky one, built a trigger into the Amanda Clarke Foundation and Carrion. When and if someone should try to drain the foundation's account, Carrion would be triggered, starting the next phase of the Initiative's plan.
Which is exactly what Nolan and Aiden did; take all the Grayson's money and turn out the lights in New York.
I know Aiden wants to get Emily to give up her revengenda, however this is not at all the way for him to go about it. 
I doubt she'd listen if he explained to her how he felt after killing Trask or begged her to walk away, but would it have hurt him to try that first? It's not like the Graysons won't self-destruct eventually on their own.
I'm slightly confused by the leaked audio of the current governor's wife talking about the governor's heart condition. It seemed like Victoria recorded the conversation and then handed it over to Conrad, but then again, I kind of think she could have leaked that audio herself and just told Jack that Conrad did it. Either way, she's planning to derail his campaign, or says she is. 
If Daniel hadn't rescued Charlotte, she'd be on her way to tanking Daddy's campaign herself, first by making out with a female schoolmate under the glaring lenses of the paparazzi and now by following in Mommy Dearest's teenage footsteps.
Charlotte is pregnant. 
I don't even know what to do with that information aside from just putting it out there. Charlotte is pregnant with, I assume, Declan's baby. Things are about to get way cramped in the two-bedroom apartment above the bar. 
Other Revenge-y goodness:
I don't love Daniel and Emily together, so their engagement is sort of "meh" for me. But I did love Victoria calling Emily out on not looking like a woman in love. It's one of those weird moments where we see Victoria as someone who has loved before, and been loved, enough to know love when she sees it. Emily's deflection didn't work. 
Emily and Jack's conversation on the porch was kind of heartbreaking. He can handle the truth about her identity and why she's there. It's time he knows her secret.
Nolan, as always, was amazing. 
What did you think of "Engagement"? Were you shocked when Aiden killed Trask? Check out the Season 2 finale promo below and share your comments on all things Revenge:
Miranda Wicker is a Staff Writer for TV Fanatic. Follow her on Twitter.