Once Upon a Time Season 3: Expanded Storytelling, Deeper Characters to Come
Matt Richenthal at .
The Once Upon a Time Season 2 finale aired last night, with various characters in various locales and Peter Pan very much a part of the cliffhanging storyline.
How might all these worlds and individuals collide in Season 3? What sort of challenges do producers Adam Horowitz and Edward Kitsis foresee for Emma, Regina and company?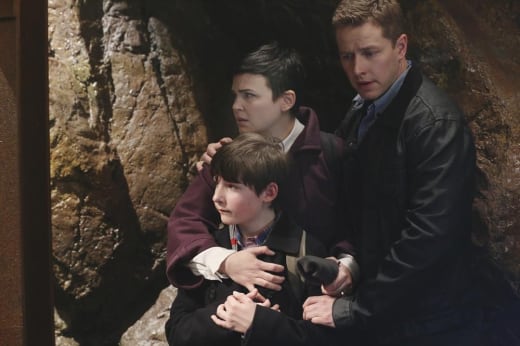 In an interview with Entertainment Weekly, the showrunners looked ahead to the fall and gave small hints on what viewers can expect.
"How do we best continue telling [these] stories?" Horowitz asked of what's becoming a very large canvas. "Sometimes that will require flashbacks; sometimes it won't. We want to continue to expand the storytelling modality of the show, like we did in season 2, where we were able to do things like flash back to Emma for the first time, or see time during the curse."
Kitsis, meanwhile, said the goal is to "simplify" the storytelling, shooting down any notion of episodes that jump between five worlds.
On a more specific basis, Regina and Rumpelstiltskin are now on the same ship and they want the same thing, but…
"Just because you want the same thing, doesn't mean you agree on the methods," Horowitz teased. "And that's going to be some of the drama there. Despite the fact that they all want to save Henry, they have a long and difficult history with each other that they need to deal with."
Overall, yes, there are many new characters. But Kitsis is quick to note that the goal is never to overwhelm the mainstays.
"Season 3, we really want to dive deeper into our core characters and continually tell their story," he said.
Visit EW.com now for the full interview with Horowitz and Kitsis and sound off: What grade would you give Once Upon a Time Season 2?
Matt Richenthal is the Editor in Chief of TV Fanatic. Follow him on Twitter and on Google+.