This review wouldn't be right without starting with the title: "Anniversary." 
What happiness it brings because next year we get to have one! Beauty and the Beast has been renewed and we no longer need to worry this story is going to end prematurely. There will be more. Happy sigh planted here!
It never dawned on me that Cat and Vincent would consider the day they "met" when he saved her as their anniversary, which was also the day of her mother's death. Or was it? We've been wondering about that the last few episodes with the strange goings-on at Muirfield and the possibility they could bring back the dead.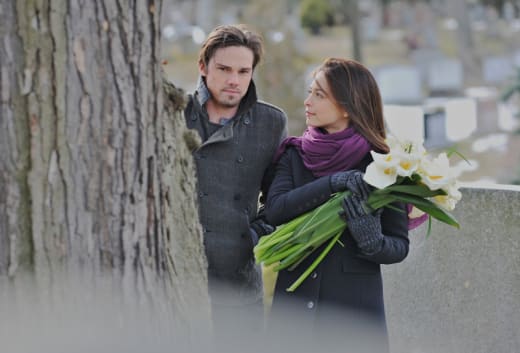 Even Gabe wondered if maybe she might be alive and it turned out it was one of the main reasons he was back in town. Hoping to find Vanessa's grave empty so she could help him. More on that in a bit. 
Gabe Lowen is a wickedly written character. He's written as well as Evan Marks was, with the constant will he/won't he challenges. Should Cat trust him or shouldn't she? Obviously, Vanessa did, as she risked her life as if he was one of her own children to get him out of Muirfield. 
Giving Gabe a drug to stop his heart would be why Muirfield isn't looking for him now. They would never think to look for him as a grown adult. Who knows what his name was back then. His adoptive parents were probably the Lowens, and I doubt Muirfield are that good to track down the people they had under their experiments that many years ago, especially if they considered them dead. It was natural for Cat to feel a sibling connection/rivalry with Gabe. 
Seeing Vincent jealous was so funny. The way he got all glow-eyed as Cat and Gabe talked about getting together to celebrate the life of Vanessa Chandler by listening to 80s power ballads just fit the topic perfectly. It was like he was out of a Ratt video or something. The special effects are really right out of the 80s. Beauty and the Beast should consider doing a video similar to what Supernatural has done with Dean singing "Eye of the Tiger" at the end of the show. What 80s song would be best?
In case you're wondering, Toto's "Africa" is not a power ballad. Don't even try to argue the point.
All of the information that Gabe had learned about Cat growing up must have been so difficult for him, and hearing all of it later was obviously tough on Cat. He knew so much about her, and yet really nothing at all. He was like a foster child living in Cat's shadow. I wonder if it will make him want to hurt her or care more about her. At this point I can't tell.
The little clues during the episode were really keen, like Gabe saying 'you don't want to see me when I'm angry," or Vincent saying "there's something off about him," but not being able to pinpoint it. How could he have been able to smell an empty grave but not smell a fellow beast? 
It was confirmed after all that Vanessa was dead, but Gabe was damned happy to have learned about Vincent. He seems to be falling apart at a fairly rapid rate. Considering, he's doing a great job keeping himself in check during stressful situations. He has had a lifetime to do it, so it shouldn't be surprising. 
How far apart are they in their DNA? Gabe is having side effects that Vincent doesn't have, and given the age differential, Gabe was one of the earlier versions of the project. He must want to know what differences they were able to achieve to stabilize the porcess, but I'm surprised that Gabe isn't further along in the mutation given the concerns about Vincent lately. Vincent only recently began to see red. Did that come with the glowing eyes?
If you recall, in my interview with Sendhil Ramamurthy (who is wonderfully active on Twitter these days), he had just received the script for the 19th episode. THIS episode. He was so stoked about the last scene and now we know why. All of our questions about whether or not he was beastly were confirmed. Glow eyes! It was also that moment when we got lost again in the confusion of whether he's to be trusted. Just brilliant.
We still had time for romance between Cat and Vincent, as after everything, he backed off a bit and realized he had to let her have her moments of wondering about her past and looking into them. He needs to support her while he protects her, and not just stifle her. Their communications are so much improved from the middle of the season when Red was there. Thank goodness. 
On the other hand, wow - Joe is a dick. He really wants to have his cake and eat it, too, doesn't he? He was looking for open spots for Tess to transfer to so they could "be together?" That was just appalling. Sadly, at first she thought he was going to make the sacrifice until he admitted he meant for her to go. Dude needs to make up his mind. Married, not married. It's not a difficult decision. If he's happy with his wife, then let the ultra cool Tess find someone worthy.
Did you notice that Tess looks sexier again now that they've taken the "bitch" aspect out of her role? Her hair is flowing and closer to her face and she's looking more appealing. It's amazing what they can do to put you off of a character if they want to. And - I fall for it! I still think Nina Lisandrello has one of the most beautiful noses on television.
It was a really great hour full of revelations, and I'm really enjoying the new information on Gabe (and would like to know more about his lady friend, STAT), but I missed TJ. Oops! J.T. When TJ just slips off of Tess' tongue as easily as it does, it's difficult not to follow suit.
All right, Beasties, hit the comments! We know Gabe is a beast, Vanessa is dead, romance is alive and married people shouldn't have affairs and mess with the hearts of people we love. What else? Hit the comments!! Eeek - I can't wait!
Carissa Pavlica is the managing editor and a staff writer for TV Fanatic. She's a member of the Broadcast Television Journalists Association (BTJA), enjoys mentoring writers, wine, and passionately discussing the nuances of television. Follow her on Twitter and email her here at TV Fanatic.