A fortnight ago, Jake and Tammy broke, albeit for good reason. 
This week, on "Another Night with Neil Diamond," that trend continued with Alan and Lyndsey also calling it quits I have to admit; I never saw that coming.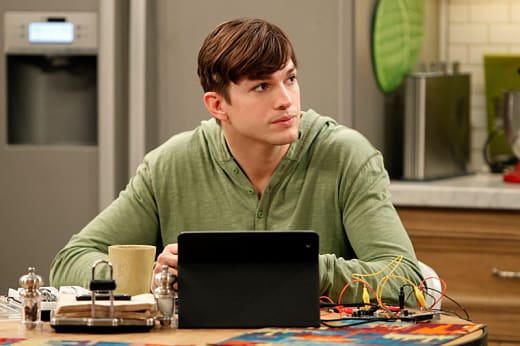 They both looked happy and content, watching movies and eating takeout, just any old couple their age. They were even getting ready to be married.
However, Lyndsey was unhappy with this arrangement and took steps to rectify it by hooking up with Rick. That's never a good idea.
Naturally, just like any other bad breakup, Alan felt awful. He laughed, he cried, he stalked... in short, he went through all the stages of grief and denial. He even had numerous scars and fractures to show for his pain.
Only Berta and revenge sex with Rick's ex-wife could alleviate his suffering. Speaking of Berta, she was on fire this week, as most of the evening's funniest exchanges centered around his character, as evidenced in our Two and a Half Men quotes section.
But it was not all bad news. Alan is now a free, single, broke chiropractor, with no commitment - and he is free to go find someone else, although just like Berta said, he will never find any woman as good as or better than Lyndsey.
Now Walden is all Alan has... and vice versa. Even though the rapport between these two is solid, I would love to see them interact with other people and have relationships that are not meant to fail from the outset.
So what did you think of "Another Night With Neil Diamond?" Are you happy to see Lyndsey go?