It was a "Red Letter Day" on The Mentalist, as the oddities spread from the town of Percy, California to Jane's attic. The latter had to do with Agent Bob Kirkland.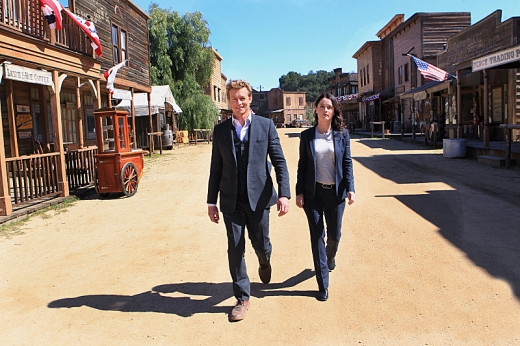 Lisbon and Kirkland shared the most uncomfortable cup of coffee I've ever witnessed. What's the opposite of chemistry? Repulsion? Teresa looked as though she couldn't flee the scene fast enough. 
Just when I thought Kirkland couldn't get any creepier, he did. As Jane and Lisbon mentioned in this The Mentalist quote…
Jane: Don't you think it's odd, Homeland Security's fascination with a California serial killer?
Lisbon: Everything about Bob Kirkland is odd. You can add that to the list. | permalink
But it just got odder. It was no surprise that he had his agents break into Jane's attic to see what he had on Red John... but what was his purpose? Was it to let Red John know what Jane had on him? Is he actually Red John and just admiring Jane's handiwork? I'm really not sure.
Percy, California turned out to be just as odd as the man who owned it. When Hollis snarled at his son that he should have known Julianna was his sister, I could completely understand why he snapped and killed him. What a horrible nightmare.
The best part of the Wild West setting was that it allowed Jane to sharpen his skills and relive a bit of his carnie days. I could only laugh when Jane told Kevin that his magic sucked eggs. It seemed so odd to hear those words come out of the normally more eloquent Patrick Jane.
Another highlight was allowing Rigsby to use his arson skills to crack the case of the cabin fires. It's always nice to be reminded that there is a smart investigator behind that Wayne Rigsby blank stare.  
Even better was having Cho call out Rigsby for being dense when it came to Grace.
You're still in love with her but instead of telling her you bought her a plant. | permalink
That about summed it up. Of course the moment Wayne got the nerve to tell her how he felt I knew what was coming. The new boyfriend walked off the elevator.

Do you think Duncan will be another Red John minion? Perhaps the next Jack the Ripper? Married with a secret family? Knowing Grace's luck with love it could be all of the above. 

Does Wayne have a chance with Grace? What's your theory on Kirkland's end game? And what will Patrick do now that he knows his fortress of solitude has been compromised? Tell me your theories before the next The Mentalist.

C. Orlando is a TV Fanatic Staff Writer. Follow her on Twitter.

Tags: The Mentalist, Reviews
Want more The Mentalist?
Sign up for our daily newsletter and receive the latest tv news delivered to your inbox for free!
More From TV Fanatic

This week on The Last Ship, Danny gets sick and the crew begins to panic. Is it the virus? Meanwhile, Rachel's vaccine trials continue to fail.

Who was able to successfully problem solve on The Rachael Ray Show this week? Find out now in our review of Food Network Star.

The Masons are reunited on Falling Skies Season 4 Episode 6. Will it be a happy or contentious reunion?

What took place on The Real Housewives of New Jersey Review this week? Read our rundown to find out!
---