The Carrie Diaries Review: Mad is Wonderful
Leigh Raines at .
It's a cruel, cruel summer but in the best of ways. Carrie may have had a rough end of the year in "Kiss Yesterday Goodbye" but all is well that ends well and I have a feeling her next chapter is going to be a memorable one.
But before we bid adieu to our petite blonde writer, let's break down the end of the school year.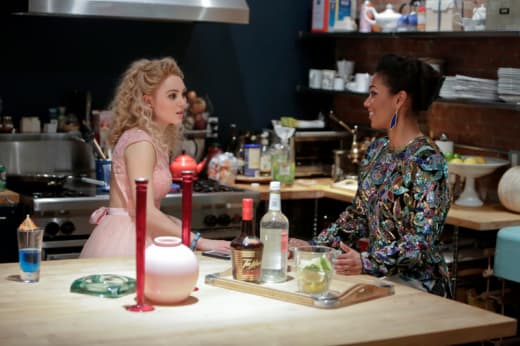 I love you, I hate you, I love you: Carrie and Sebastian's relationship gives me whiplash! That feeling that Carrie described of waking up in the morning and having those few seconds of bliss when you don't remember what's upsetting you was so spot on. I can't tell you the number of times post fight or breakup when I've woken up and experienced that. Then there's that other kind of heartbreak: the selfish, self-sabotage kind. This is where Maggie's at.
First, she saw the cop with his "fiancee" at the diner. He's engaged? What a scuzzbucket!! C'mon Maggie. Then she found out Walt was gay and reacted in an alarmingly obnoxious manner. I get being upset that she didn't know and being upset because he allegedly loved her... but didn't tell her this huge part of himself. Yet that public scene in the diner was totally cringeworthy. Then she got drunk and kissed Sebastian. Oy Maggie, get it together girl! 
Good thing Walt and Carrie decided to head into Manhattan for the summer. I was kind of giggling when Tom asked Carrie if she and Walt were dating. "Never say never!" No Tom, never. Besides Carrie and Walt are gonna be with good ol' Stanford this summer and Walt will finally get his first chance to just be himself and not have to hide his sexual orientation. The final scene of them in the apartment and Carrie on the typewriter was perfect. 
I have to wonder if Sebastian would've ever been honest with Carrie about what happened with Maggie. They were trying to be more honest with each other and try and move past problems and fighting. Why would he give in to Maggie? He had enough sense when she first kissed him to pull away from it. Why then go in for that second kiss?
I love you so much my heart hurts. Is that what love's supposed to feel like? Pain? | permalink
For a lot of people, no it's not. But for Carrie she will later find out that she can't settle for anything less than that maddening kind of love. Larissa knows this about Carrie. That's why she collected her. It's interesting that Carrie usually seems like the more stable sister but when it comes to love Dorrit has it on lock. She has Miller and despite her tiny meltdown, she's happy. She just hadn't allowed herself to feel for a really long time.
With Dorrit, Mouse and Tom all in happy relationships I can only hope that Carrie and Walt's summer will bring some happiness too. I loved the season finale and the heartbreaking 80s ballads, all rolled together in the episode. Here's hoping for a season two confirmation soon!