Too many of our favorite shows remain in reruns... but next week we've got new episodes of Arrow, NCIS and Scandal - and I have some scoop for TV Fanatic about each of these hit programs.
Before they air, though, take some time this weekend to watch the phenomenal Call Me Crazy on Lifetime, executive produced by Jennifer Aniston. Alright? Now let's empty out the Notebook…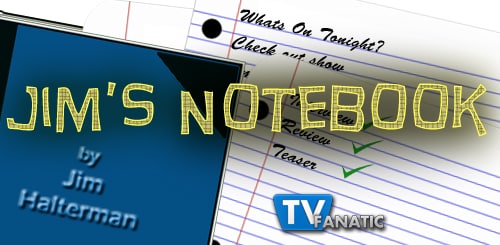 ARROW Felicity is about to leave her desk and hit the streets. Make sure to watch in "The Undertaking" (airing 5/1), where the quick-witted Miss Smoak actually gets to go out in the field. And while we normally see her with Ollie and Diggle, with whom would Emily Bett Rickards like to share more scenes?
"I haven't had any scenes with Susanna [Thompson] and she's a phenomenal actor," she told me of the actress that plays Ollie's mother, Moira. "Even at the table reads – I feel like such a dork but she knows I love her - I look up to her a lot and I would just love to have some really meaty scenes with her."
And while Rickards is admittedly "green to the industry," she's quickly gotten into social media. "Oh, I like Twitter," she said with a huge grin. (Make sure to follow her @EmilyBett.)
NCIS Ready for Ziva and Tony to finally take that next step in their relationship? I talked to Executive Producer Gary Glasberg about it and he told me that more is coming with Tuesday's "Berlin."
"We went into season 10 with the idea that we would certainly move their relationship forward, and I think we will have, certainly by the end of the finale, succeeded in doing that," he said.
And while Glasberg and the writers have carefully drawn it out over the years, the creator teased that "Ziva fans will not only be satisfied with a lot of what they get, but there are also things that they'll have to wait on as well, so…I think about Moonlighting, and I think about Northern Exposure, and I think about other shows that had relationships built into the structure of the storytelling that they did, and it was very smart, even back then, of giving it to people in little bits and pieces."
SCANDAL One of my favorite things about my job is talking to people on TV who are TV fans themselves. For example, Scandal is back next Thursday and I spoke to Guillermo Diaz about his great scenes with Katie Lowes (as Quinn) and whether he thinks the characters would ever go horizontal in the sack.
While he sees #HuckleberryQuinn as more brother/sister, he did say "a lot of people keep asking if we're going to get together and hook up romantically and I honestly have no idea. I would rather just see them as friends, but who knows what could happen in the future. I mean, you know, remember when Chandler and Monica got together on Friends? I never expected that to happen either, but it happened and they ended up getting married. You never know what could go on in eight seasons, you know?" 
And guess who Diaz is traveling with during his hiatus? None other than Lowes! They are heading to Israel with America's Voices and the actor said he's beyond excited since it's his first trip there. We'll keep an eye on your Twitter account for pics, Guillermo!
CALL ME CRAZY Earlier this week I had the pleasure of attending the Los Angeles premiere of the new Lifetime movie, Call Me Crazy, which depicts women dealing with mental illness and airs tomorrow (April 20) on Lifetime. 
Starring Jennifer Hudson, Brittany Snow, Parenthood's Jason Ritter, Modern Family's Sarah Hyland, Octavia Spencer and Melissa Leo, the five short films were directed by Laura Dern, Bryce Dallas Howard, Sharon Maguire, Lea Thompson and Bonnie Hunt. While the subject matter is heavy, the writing, acting and directing are top notch, giving you a unique window into mental illness, both in those who are afflicted with it or those who are close to someone who is.
The anthology, part of the Five Film franchise on the network (last year's film dealt with breast cancer), also had help from Marta Kaufman (co-creator, Friends) and Jennifer Aniston, who were among the executive producers on the project.
That's a wrap for this week! Anything else you're dying to know about your favorite show? Leave a comment here or you email me directly at jim@jimhalterman.com. And remember: follow @TVFanatic for all your TV scoop!
Jim Halterman is the West Coast Editor of TV Fanatic and the owner of JimHalterman.com. Follow him on Twitter.