Hart of Dixie Review: Take Smaller Bites
Kate Brooks at .
"If Tomorrow Never Comes" was definitely one of my favorite episodes in this latter half of Hart of Dixie Season 2.
The reason being the final scene between George and Zoe because George said EXACTLY what I was thinking. Also, because George and Tansy grew closer while Brick and Shelby became engaged. But the key moment for me was a confession from Zoe Hart in regards to Brick Breeland.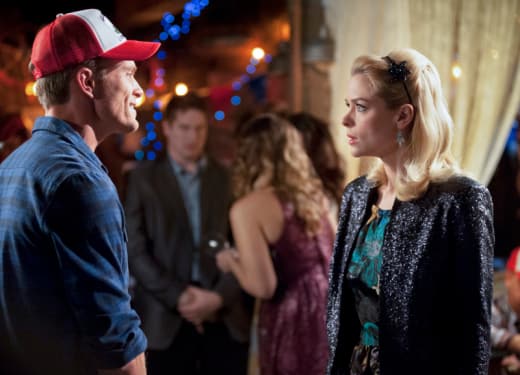 Let me start of by talking about the best part of the hour: when Zoe confessed to George that she "liked" him and George responded, "ARE YOU FREAKING KIDDING ME!?" You and me both, George Tucker, or G.T. as you liked to call yourself.
This whole re-hashing of George feelings from Zoe is SO Hart of Dixie Season 1. She chose Wade, end of story. George is now sloppy seconds... while Wade is the guy who cheated on her. It seems both dynamics have been tainted somehow.
George was exactly right, she told him to go find a relationship and that is what he did and look what happened. George is falling in love with Tansy and I love every second of it. It was really adorable to watch George call her brothers his "family." This dynamic is becoming one of my favorites.
My favorite quote was courtesy of George shutting Zoe down: "Take smaller bites." Ha! Best burn of the night goes to Mr. Tucker. I loved it!
Another great addition was how Zoe confessed that Brick was like a father figure to her. I love to look back to their initial relationship and how Brick despised her. I really do believe these two have a father/daughter dynamic and are slowly coming to admitting it.
Now, if Lemon and Zoe could be become besties I could forget the whole Wade-cheating-on-Zoe debacle.
Elsewhere, Brick was getting his brain tumor removed. I am disappointed that it didn't play out more. I guess I was hoping it would drag out into the season finale and be some big cliff hanger for a possible season three.
I'm realizing that the tumor was just a ploy to bring Jonah/Zoe closer, while also leading to engagement between Shelby/Brick. Which, to be completely honest, I don't mind at all. I think Jonah is the kind of rebound guy that Zoe needs.
Overall, I enjoyed this episode. I really liked seeing the newer dynamics were getting closer; yes. I am even talking about Lemon/Wade and Annabeth/Lavon. And when I look back at how far this show has come, you know, maybe I do really enjoy how they're mixing it up.
Now we have two episodes until the finale and I can only imagine the kind of craziness that will unfold in Bluebell.