Hart of Dixie Review: Here We Go Again
Kate Brooks at .
In "The Kiss," Zoe and George tried to avoid playing Romeo and Juliet in the retelling of the Shakespeare story.
How come? So they wouldn't have to kiss and possibly rehash old feelings, of course. But obviously both of those things did, indeed, happen.
The big surprise for me tonight was the reveal that Brick lied last week when he confessed that his CAT scan came out clean.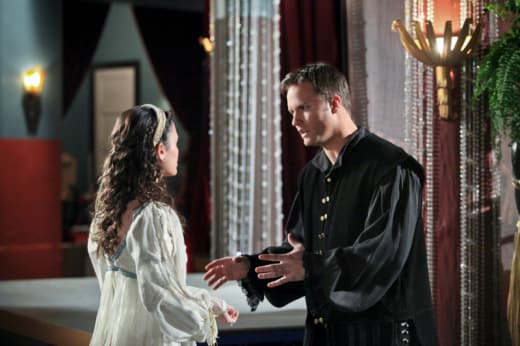 Elsewhere, Lemon and Wade, not so surprisingly, fought over decisions being made about the "new" Rammer Jammer. It came as to no shock that they didn't agree on anything. The best part about this storyline was they found common in ground in an employee that neither wanted. This same employee turned out to be a great fit for the establishment.
Lavon, meanwhile, was dealing with stage fright, which was comedic to watch. But I was disappointed he didn't stutter again and fail. However, it was cute to see that having Annabeth as his "rock" cured his acting problems. I am slowly warming up to this couple. Anything to get more Annabeth, I love her character!
Zoe was avoiding George because she, like in all of Hart of Dixie season 1, has feelings for him. Sigh. I'm really not into going through this again with these two. I really do not like how they are basically the same person, i.e. the crosswords in the New York Times. What I enjoyed the most about Zoe and Wade was that they were so different and had to adjust to each other, it kept it fresh.
With George and Zoe, I see no surprise. I don't see this being a dynamic full of life and substance.
I think we all knew ultimately that this is where Hart of Dixie was leading once she started dating Wade. I know I predicted that Wade and Zoe would not last the whole season and that George and Zoe were possible endgame.
George is a great guy and Zoe deserves someone who will treat her right. Unfortunately, the writers tainted the relationship between Wade/Zoe so much that I feel it may never recover after his decisions. It's a shame too.
Moving on to the plot twist that surprised me: Brick has a brain tumor.
You know, I said in my previous Hart of Dixie review that I'd really like to find out whether or not Brick lied about it being clear. Good one, writers, even though it's dark, I really am looking forward to this plot line.
That said, Brick and Shelby are my favorite pairing on the show right now. I will go down with this ship and I truly hope she stays by his side.