Big Foot, gorillas, and a mysterious super rat were all theorized in the hilarious "The Fast and the Furriest."

This week, our Castle Round Table team of Jim Garner, Chandel Charles and Christine Orlando are joined by Castle fan Dave from The 12th Fan Forum to debate whether Alexis' punishment fit the crime and whether Big Foot is scarier than a gorilla attack.
-------------------------------------------
What was your favorite scene from the episode?

Dave: The bedroom scene. It was a perfect illustration of how these two can be so different but so close at the same time. Kate looked so happy and content when describing their relationship it was nice to see.
Jim: I laughed so hard at Alexis pulling her head out of the fridge covered in blue paint like she set off a dye pack from a bank. Talk about being caught red-handed or, rather, blue faced. Sooo funny!
Chandel: Probably when Castle was stuck in that huge trap. He's such a riot when he's uncertain of his fate.
Christine: I loved when they fell into the pit.  Between the cheerleader boost, the spark, and Castle screeching Shoot it! and then, Whoa, whoa, whoa. It's talking. I couldn't stop laughing.  The entire sequence was perfect.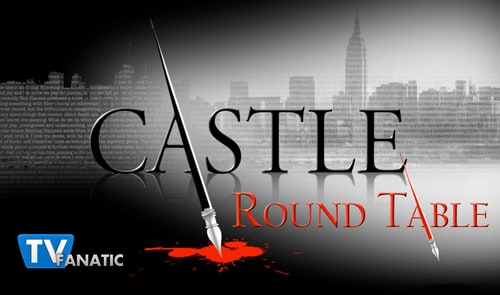 Do you prefer everyday magic? Or the possibility of real magic?
Dave: I am more of a skeptic so I have to go with everyday magic, like the fact that i get to watch a new Castle every week!
Jim: In some ways they are one and the same. However, I'm with Castle in wanting to believe there are things we haven't fully discovered. ESP, Aliens, Loch Ness... the list goes on and on.
Chandel: I prefer the magic of everyday. It's the simple fact that it is possible in the everyday makes it magical.
Christine: In reality, I'm a skeptic like Beckett and I believe the everyday can hold magical moments but there's a tiny part of me that wishes someone could prove that real magic exists. That's probably why I always root for Castle.
If you could chose one thing to be added to the Castle Season 5 DVD extras, what would it be?
Dave: Because of the 100th episode, it would be cool to see a feature about the cast member's favorite episodes and moments. And to hear them reflect on the progression of the series and their characters.
Jim: A featurette showing all of the Firefly references and nods hidden through out the series. I know there are props as well as dialog put in as nodes. Would love to see them all.
Chandel: Commentaries for each of the episodes in a short video where the writer gets to talk about the episode. You learn so much about the intent and development of the characters that way, even more than just from seeing it on screen.
Christine: Ooh. I love Dave's idea. I'd love to hear commentary on the season premiere from Nathan and Stana and commentary for the 100th episode from Andrew Marlowe and Terri Edda Miller.  Of course I also want to see every deleted scene from the season.  Yes, I'm an extras junkie when it comes to dvd.

Name your favorite Castle and Beckett lift. The haunted house in "Demons," avoiding the tiger in "Cuffed" or Big Foot's pit?
Dave: The one from "Cuffed." There were so many funny lines and innuendos throughout. Poor Castle didn't have any of the fun he might have normally expected in this situation.
Jim: I have to go with the circus act lift from "Cuffed." The position they ended in was hysterical.
Chandel: Avoiding the tiger in cuffed. It was a really entertaining moment where they were facing their threat head-on.
Christine: I loved this one. Castle's quip about wearing short skirts being a rule made me laugh. I love how much more fun things are now that they are a couple.

Was Castle too easy on Alexis for lying to him and stealing his food?
Dave: I don't think so. Usually whenever Alexis does something wrong there is some good reason behind it and this time was no different. Castle knows he can trust her.
Jim: I'm pretty sure the dye pack made up for any discrepancies in his scolding. Honestly, I'll be surprised if Alexis gets a glass of water at the house anytime soon.
Chandel: I don't think so. It's not really in her nature to steal anyway and it was actually kind of funny when the truth came out. I think the situation was resolved how you would expect it to be resolved on Castle.
Christine: Like Jim said, I think the blue face was a fair punishment. Every college student hits a moment where they did something stupid with their money and they're going to starve for two weeks because of it.  I didn't expect that of Alexis but everyone is allowed to screw up at least once.

Scariest possible scenario: Big Foot exists, Attack of the Apes or a super rat stealing food from the fridge.
Dave: The super rat. There is really nothing worse than someone(or something) eating your leftovers. I will take my chances with Bigfoot and apes any day.
Jim: I'm going with Ape attack... mainly because these have happened already and if they ever become smarter than us we could loose our place at the top of the food chain.
Chandel: Attack of the Apes. I don't belong in an enclosed habitat.
Christine: Well, I just won the battle against a mouse who invaded my kitchen so I'm feeling brave... OK, the cat actually won the battle but I'm with Jim. Since I don't believe in Big Foot and apes do exist and have attacked with horrific results, they are definitely the scariest.
C. Orlando is a TV Fanatic Staff Writer. Follow her on Twitter.