The promos Awkward Season 3 tell us that "Change Blows" - and once I checked in to see where we find everyone in the new season of the 2013 People's Choice Award-winner for Favorite Cable TV Comedy, that phrase may be an understatement.
Last season's 'who will Jenna choose' story is over and Jenna (Ashley Rickards) and Matty (Beau Mirchoff) are solid, while Jake (Brett Davern) spent the summer with his new love, Tamara (Jillian Rose Reed).
But, never fear, things are anything but calm as our gang faces new challenges.
I recently spent some time on the Awkward set in Los Angeles to find out what we can expect with the new season, discovering there's lots of fun (and heavy) stuff to come!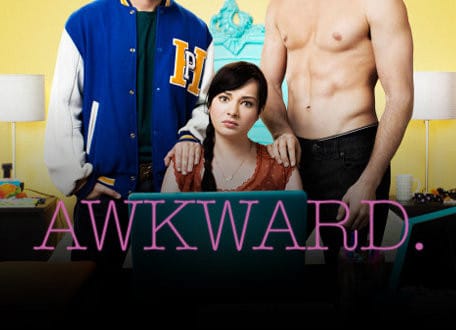 A Darker Awkward: Big themes like death and identity are big parts of the new season, but don't expect the humor to be overshadowed. "The shows always so funny and we never lose the comedy, which is really important," Desi Lydic (Val) said. Rickards, though, gave props to creator Lauren Iungerich: "It takes a certain type of special writer to bring these previously lighthearted characters to such a dark place. She's got such an amazing imagination and talent for surprise. Nobody will see it coming!"
Jenna: As you might expect, it won't be an easy year for Jenna Hamilton. "Jenna's struggle this year is different than in seasons past," Rickards told me. "She's got the guy, she's got the friends, she is living her life -- but the big question in her mind is: is this who I actually want to be?"
And while Jenna and Matty are happy, conflict will arise as they venture into new territory. Rickards explained: "These two teenagers are entering a new stage in their relationship. A stage that they are both 'virgins' in. Matty and Jenna will try to navigate and recalibrate their new and very adult relationship."
Jamara: Yep, Jake and Tamara are together and seem very happy. Maybe too happy? "These first couple episodes are funny the way that you see Jake and Tamara interact," previewed Jillian Rose Reed on the set. "They've kind of almost taken on each other's traits, which a lot of couples do."  But, come on, this is Awkward so will the good times last? "They're just happy to be together but going on down the line, yeah, they'll definitely run into some issues."
Davern added that Jamara is not as much of a stretch as some might believe: "I think they're perfect for each other. Gamara's been getting screwed over by Ricky for so long and she's had her heart broken so many times by him and then Jake just had his heart broken in a major way that one time but in a huge moment. And they find each other and I think they're kind of opposite a little bit but I think they have more in common than people think and I think they're really good for each other, for sure.
Friendship Struggles: We're used to seeing Jenna and Tamara be BFFs but things are definitely, well, off in tonight's premiere. Does it have to do with Jamara? "There's a lot of moments where we feel tension," Reed said,  "and there's a couple of times where we're all together where it's awkward for us and we feel kind of weird about the situation, and yeah, we do talk about that. We do get into it a little bit."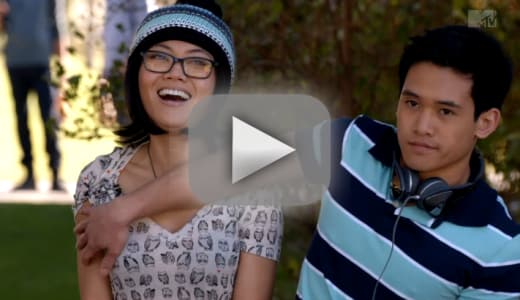 Both Reed and Rickards said that their friendship is strong, though, even when going through rough patches.
Sadie: We find the mean girl in quite an altered state than we're used to, which, of course, starts the rumor mill flying in the season opener that maybe she's with child. "She's dressing a little different, she's a little bit unkempt. There has been a major life change for her," Molly Tarlov carefully told me. "Sadie kind of defines herself by what other people think of her. She needs to redefine pretty much. She's going through a lot." In fact, Tarlov said that the audience will be able to identify with Sadie more this year than ever before.
Matty and…Sadie? Remember that the unlikely twosome have been friends in the past and that dynamic will be revisited. "Matty and Sadie are good friends, but it was never exemplified," Tarlov explained, adding that seeing the two together will "open up more windows into Sadie's soul."
Mirchoff seconded what his co-star said and teased: "When Matty starts going through some stuff with his parents and his girlfriend isn't really open to discuss it or to help him out, he reaches out to Sadie…maybe it's surprising to the audience but not surprising to Matty."
Will all this get under Jenna's skin? Duh!
Mother Love: While they've had their challenges, Jenna and mother Lacey are in a good place, Rickards said: "Jenna and her mom have, in a sense, bonded a bit more. What pulled them apart has made them closer and this season Jenna will be leaning on her mom – and, subsequently, Lacy's huge boobs - much more this season."
DeLoach, who plays Lacey, said her character is also learning in season 3:  "You find her in the beginning of the season in a much different place than we've ever seen her and she's trying to be the mother that she never had herself and that Jenna has always needed. She's trying to do the right thing. She's trying to have boundaries. She's trying not to be so self-involved. She's trying to be considerate of her daughter. All of those things."
Don't expect Lacey to get everything right, though. What fun would that be?
NOT Hot for Teacher: Teen movie alum Anthony Michael Hall (Sixteen Candles, Breakfast Club) joins the cast as a tough-as-nails teacher, Mr. Hart who directs his venom in Jenna's direction. "Mr. Hart doesn't have a heart," teased Rickards. "But he will ignite something in Jenna that sparks some deeper questions about her identity and poses some interesting situations for her as well. All moving her forward... at first."
Two Steps Forward, Three Steps Back: Former-counselor, now-Vice Principal Val (Desi Lydic) may like the power that comes with her current gig but can she truly handle the job? "We'll see whether she progresses or regresses," Lydic told me with a grin. "Val can only handle so much responsibility. I think reality sets in at some point and we see how she handles things, as things shift for everyone this season."
Jim Halterman is the West Coast Editor of TV Fanatic and the owner of JimHalterman.com. Follow him on Twitter.