Arrow Exclusive: Emily Bett Rickards on Felicity in the Field, A Romance with Oliver and More!
Jim Halterman at .
Felicity Smoak won us over the minute she began appearing on Arrow, but life is about to get a lot more complicated for our computer expert.
In fact, life-threatening danger is right around the corner upon the return of this CW smash, with Miss Smoak right in the middle of it.
In this week's episode, "Home Invasion," Deadshot returns to stir things up for Ollie and crew, while in the May 1st episode ("The Undertaking") Felicity leaves the computer for a change and goes out in the field.
Last week, I sat down with Emily Bett Rickards to talk about what Deadshot does to our heroes, how Felicity will cope with being in the field and whether she's on board with a possible Ollie/Felicity romance...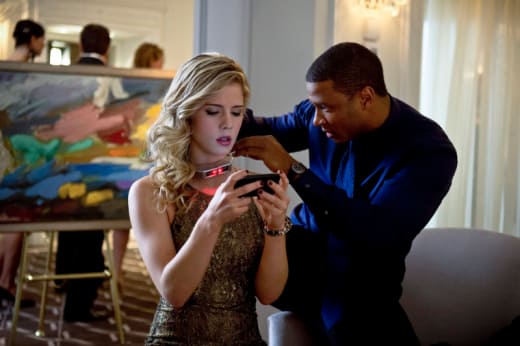 TV Fanatic: Deadshot is a big part of the next episode and I know Felicity becomes involved in the hunt for him but does she come face-to-face with him? Does she interact with him at all?
Emily Bett Rickards: No. She's got a big involvement in what happens about whether Deadshot is caught or not and we get to see tension around Deadshot and within our trio within Diggle, Felicity, and Oliver and that's what the episode revolves around Deadshot seems to get in the way of our groove.

TVF: So is Deadshot trying to get into your heads just so he can screw with the dynamic?
EBR: He's doing it unintentionally, but it's happening.
TVF: In the 'Undertaken' episode when Felicity goes into the field, how was that to play?
EBR: I love Felicity when she's not in the Foundry. I love her in the Foundry but she even says 're-circulate the air and no coffee. What's going on down here?' She's obviously frightened. She's out in the field but she secretly loves it. She probably watched a lot of spy movies. I mean, she knows what's going on.
TVF: Does she find that she's more capable than she might realize?
EBR: I find she is capable. She does find herself becoming more comfortable out on the field as time goes on and it's interesting the way that she's being written and the way I've looked for little treasures in the script and things.
When she starts to play a character when she's out on the field she's more comfortable. It's really interesting because then you see Felicity slip through and then she kind of composes herself back and it's like 'okay I can do this,' I can be somebody else for 20 minutes or whatever.
TVF: I know you've been getting questioned a lot about Olly and Felicity. She definitely, you can tell, has moony eyes over him. Duh?
EBR: How do you not? He's a babe for one, but he's also opening up to her, which is not something that he normally does. She can feel that, I think. We can feel that when somebody opens up to us when there is sort of a brick wall usually. Also, he saved her life when she had a bomb collar around her neck. He's going to save her life again in future episodes so her heart's pounding a little bit.
TVF: If you were in the writers' room would you want something to happen or do you think it's better to tease it out?
EBR: I don't know. I mean, it would be awesome to see. I think the tension is also very intriguing for audience members. I think that's always a great thing even when you reading a book or watching a show [and] you're just waiting. Is it going to happen or you're just heartbroken or left at the end of a movie or something like that, elated or that sort of thing. Yeah, I'm not sure what I would write. I'm not the writer.
TVF: And all this about Ollie and Felicity but what about Diggle? He's got those big arms.
EBR: They're actually the size of my thigh. They're huge. Why not with Diggle right? David Ramsey!
TVF: You said Ollie saves her life again. Does he end up having it jump in and help her in "Undertaken?"
EBR: He does have to help her. She's out on the field, but she is five foot five little blonde girl so you know she can't really take down any big muscular guys or anything like that if this were to happen.
TVF: Felicity is always so together and focused at work. Do you think her home life would be the opposite of that?
EBR: I always wonder when I play a character if I would be friends with them or whether or not they would be friends with me and I think I would probably be friends with Felicity because she's really smart, but she probably wouldn't be friends with me because my apartment is a little messy.
TVF: Ever since Felicity began appearing, the fans have just gone crazy for her. Does that add any pressure to you?
EBR: No. I never dreamed in a million years that this was how it was going to be. Pressure? No, it's just really nice. It's a compliment to the writers and to the team and I'm really grateful, as well. I think it's fun.
TVF: Who do you think is the bigger fashionista? Felicity or Emily?
EBR: Oh, we're different. I own leather, I'm pretty sure she owns nothing leather. One of the first episodes working with David, I was leaving set and I said good bye to him and I was dressed in my regular clothes and he looked at me and he goes, "Oh, my gosh I had no idea that was you." I think I was wearing a black leather bomber jacket you know, something normal in Vancouver cold weather. He just had no idea it was me.
TVF: A lot of the characters on this show have secrets. Do we know if Felicity has any secrets?
EBR: We don't really get into when she has secrets besides the fact that she's carrying this huge secret that she knows who the vigilante is…but she's got her own little secrets. Everyone does, but she's open with all of them. We don't really get to see her devouring or holding any back quite yet.
TVF: You came on the show it had already been airing. What was the biggest surprise working with Stephen?
EBR: Working with Stephen was great. He has been continuously offering his help because I'm green to the industry. Well, since Felicity has become more popular there are new avenues that I'm searching and he's been such a great help. Everyone on this show has been like, 'anything you need just talk to us.' Everyone has been really helpful. I think I'm surviving.
Jim Halterman is the West Coast Editor of TV Fanatic and the owner of JimHalterman.com. Follow him on Twitter.