Over 25 million votes were cast following last night's rock and roll themed American Idol. Jimmy Iovine will chime in and then we'll narrow down the field of contestants to the Top 6, but the judges' save is still in play for two more weeks.
Will they use it? Or will they let the contestant with the lowest number of votes go? Let's find out...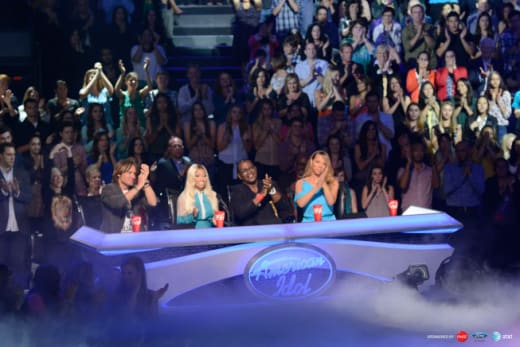 The Top 7 open with "Somebody To Love" and all I can do is compare it to Glee, which is what happens with just about every big group number. Candice Glover had an amazing stand-out moment that I'd like to hear again. As the guys in this competition are sent home, these numbers are going to get more and more difficult to pull off just based on the differences in style among the female contestants. Their voices don't really blend well, so all girl numbers are going to be tough.
Jimmy Iovine chimes in on last night's performances and says that the trouble with last night, where rock and roll is influenced by both R&B and country, was song choice. The contestants who struggled consistently chose the wrong songs.
Burnell Taylor, in Jimmy's opinion, "gave rock a bad name." He did so poorly, in fact, that Jimmy thinks he'll be in the bottom two. Angie Miller and Lazaro Arbos' duet felt like a variety show performance at a wedding. Kree Harrison picked the right song and sang with dignity and poise despite the pinched nerve causing her pain.
In his duet with Candice Glover, Burnell Taylor was great until Candice started singing. Her professionalism caused his part of the performance to fall flat. Jimmy thinks Burnell's got some homework to do and that homework is to watch Candice.
Jimmy thought Janelle Arthur should've picked a Bob Seger song. She's a confident and competent performer but she chose the wrong song. He puts her squarely in the middle of the pack. Lazaro Arbos did a "reasonable" job, but Jimmy thinks he's in the bottom 2 or out completely.
Jimmy agreed with Nicki's comments about the trio of girls. The only thing good about the performance was Amber Holcomb's jeans.
Candice Glover was great but didn't give one of her best performances on "Can't Get No Satisfaction." The song didn't have enough melody to showcase her voice.
Jimmy believes that Amber Holcomb is on her way to the top because she's consistently improving week after week. Angie Miller's performance also pleased Jimmy, but he wants her to go with her gut and stop over-expressing herself.
Jimmy's Top 3 for last night are Amber Holcomb, Angie Miller, and Kree Harrison. Lazaro Arbos should be the one going home.
Idol alum Casey James, who impressed former judge Kara DioGuardi with his blonde locks and killer abs, graces the stage once again to sing his hit "The Good Life." He's pretty. His song is okay. I was kind of too busy looking at him to pay attention.
Tonight they've asked the judges to list their Top 3 performances from last night. 
Keith picked Kree Harrison, Angie Miller, and Amber Holcomb based on the performances we've seen so far. Nicki chose Angie, Amber, and Kree as well. She thought this was going to be a secret Top 3, but says that outside of their talent, these three seem most relatable. 
Randy also selected Amber, Kree, and Angie. He really wanted to choose 4 to add Candice Glover and thinks that all four of them could have stellar careers. Mariah, throwing a curveball, chose Kree, Amber, and Candice Glover. She loves everyone and wishes she could have chosen a Top 5 since their styles are so different.
America, whose votes actually count, chose Kree Harrison, Angie Miller, and Lazaro Arbos. I'm actually kind of shocked that Lazaro is in the Top 3. But also not shocked because there's always one underperforming contestant who makes it ridiculously far every year. But the Top 3? He is not Top 3 material. AT ALL.
Wow. Lazaro in the Top 3. Even after a commercial break I'm still stunned.
Idol sweetheart Carrie Underwood, who is currently on her Blown Away tour, stops by to sing "See You Again." She always looks like a million bucks. She always sounds great. Except tonight I think there's something strange with the audio transmission. There are times when the balance is off between the music and her vocals, but it's still a great performance.
Joining the Top 3 are Candice Glover and Amber Holcomb. That means that Janelle Arthur and Burnell Taylor are the bottom 2. 
Nicki says that no matter what happens to Burnell, Idol changed his life, physically and mentally. Janelle, Nicki thinks, doesn't think will be going home and says that no matter what, they're still the best of the best, so this experience has been a win.
Kieran dims the lights and Ryan sends Janelle Arthur back to safety. Burnell Taylor is singing for the save.
He reprises "I Am Ready For Love." Candice is a crying mess in the background and so is Mariah at the judges' table. Burnell's performance was really a strong one, but it was clear he felt defeated by the results.
The judges deflate the audience and the rest of America by deciding not to save Burnell Taylor. We'll be saying goodbye to the boy from Louisiana.
What do you think, TV Fanatics? Should the judges have saved Burnell Taylor?
Miranda Wicker is a Staff Writer for TV Fanatic. Follow her on Twitter.