Will tonight be the night when the American Idol judges use their save? Will Lazaro Arbos survive to sing another week? 
After the stellar performances given by the ladies last night, he seems a bit out of his league. Let's find out who's going home...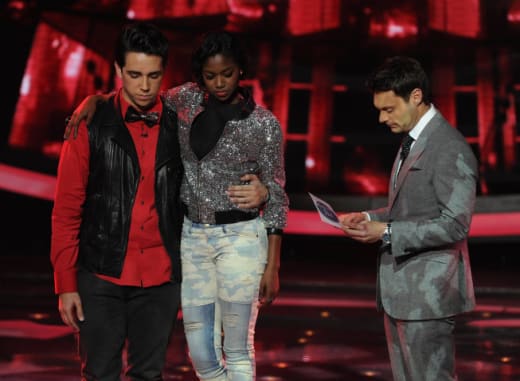 The rain here wiped out ALL of Jimmy's comments about Angie Miller, Kree Harrison, and Lazaro Arbos except for his clear prediction that Lazaro is the weak link in this competition and needs to go. Or at least that's what I imagine Jimmy said. Because that's what needs to happen tonight.
Ryan asks Kieran to dim the lights and then asks Angie Miller, Lazaro Arbos, and Kree Harrison, last week's Top 3, to take a place on the stage. He leaves the other three contestants on the couches and we go to the first of our 400 commercial breaks of the night.
Scotty McCreery, fresh of his first ACM Award for Best New Artist, is living the life he always imagined. He performs his latest single "Gotta See You Tonight." He's such a fun Idol. I like him.
Back to the contestants on the stage, Janelle Arthur is the next to receive her notes. Jimmy says that the literal interpretations she's doing of the songs, instead of making them her own, is hurting her when she's compared to the other girls. She's sent to join Angie. 
Candice Glover, who gave two of the best performances in Idol history last night, is leading the pack according to Jimmy. She's sent to stand with Kree.
Finally, Jimmy thinks Amber Holcomb needs to keep doing what she's doing and doesn't understand why America doesn't get her. (Hi Jimmy, it's because she shows very little personality in her interviews and we cannot get a read on who she is as a person. This is a singing competition, yes, but we're looking at the story, too. Maybe unfairly, but that's what's happening. So, there's your answer.)
One pair is the Top 2, one pair is the middle, and one pair is on the bottom. But which pair is which?
Before we can find out, we're treated to an Electric Light Parade-inspired performance by the original Idol, Kelly Clarkson, singing "People Like Us." The black lights and the black light reflective makeup is weird. WEIRD. Go with the dresses. Skip the eyes. Otherwise, it's a really great Kelly performance, but then again she doesn't have many "off" moments. Given the issues she's had with producers post-Idol, I'm actually surprised she made this appearance, so this is a treat.
Once again, Kieran dims the lights. 
Kree Harrison and Candice Glover are the Top 2. Ryan sends them to the couches instead of the uncomfortable stool-chairs. Lazaro Arbos and Amber Holcomb are the Bottom 2, leaving Angie Miller and Janelle Arthur safe in the middle.
If Amber received the least amount of votes, the judges will most definitely use their save. There's no way any of these girls deserves to go home before Lazaro.
Lazaro Arbos is in danger of elimination. If "in danger" means "buh bye." There's no way the judges will save him and if they do I will question ALL of their sanity even more than I already sometimes do. And they don't use the save. 
See you later, Lazaro Arbos. 
Should the judges have used their save tonight?
Miranda Wicker is a Staff Writer for TV Fanatic. Follow her on Twitter.