"Dark Night Court" was another average installment of the The Simpsons Season 24.
As I said last week, the show can sometimes substitute flashy gimmicks for actual substance, giving us wacky situations or unusual settings instead of solid story. Well, I forgot to mention the guest stars. Tina Fey was a prominent part of "Black-Eyed, Please" and this week the task of amusing the audience was left up to....Janet Reno?!?
I respect the former Attorney General as much as the next person - but isn't this reference waaaay too dated. It wasn't even like there was much for her to do, or even a real connection between her and the plot.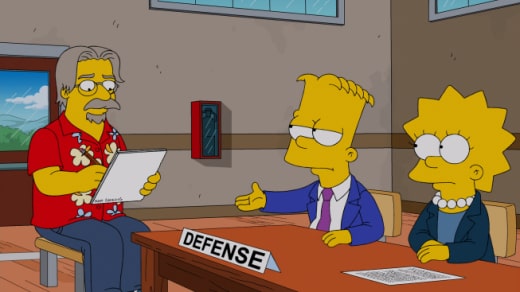 The more amusing parts came from simple jokes referencing classic Simpsons gags. The show really does rely on nostalgia more often than not and that couldn't be clearer than when Bart motioned to his courtroom caricaturist (an animated Matt Groening) who was sketching Bart as he appeared on "The Tracey Ullman Show." Above his head was a riff on his former tagline, "Under indictment and proud of it, man!" Wow, when was the last time Bart said "man."
Also hilariously referenced was Bart's prank phone calls to Moe. As Moe recounts the horrible embarrassment of yelling out, "Mike Rotch," it was both funny and sad. Funny cause...come on, "Mike Rotch." But sad because the days of Bart's classic prank calls has past.
Plus, we got a return to the always unaware Martin asking, "Who could have shoved eggs up our brass?" without a hint of irony.
The plot involving Mr. Burns sudden interest in being a crime-fighter felt a little out of character for the ruthless tycoon. It was interesting to see how his love of comics started, and how it was cruelly snatched away. However, I just don't see Burns as someone who cares if people look up to him or not. But it was funny to see him stumble and flail through his heroic attempts to stop the Kwik-E-Mart robbery, right?
As always, visit our section of The Simpsons quotes for more.