The Good Wife Review: Everyone's Been Served

Carla Day at .
The Good Wife was all over the place in "Going for the Gold" with bits of serious business, fun and creepiness.
The case against Eli may have been weak, but Josh pulled out every option he had in order to bring down the campaign manager. It was a trip down The Good Wife season 4 memory lane, going back to Jackie's unfortunate campaign speech at the retirement home, the straw poll, the firm's bankruptcy and the tenuous relationship between Peter, Eli and Frank. 
Josh should have cut out of the case after the wiretap was ruled inadmissible, but he couldn't bring himself to give up. I couldn't help but think it was waste of government resources to go after a case when the result was a landslide victory in the straw poll over a 25% legal fee discount. Even if Eli was guilty, there were no damages since Peter won the straw poll by over 95%.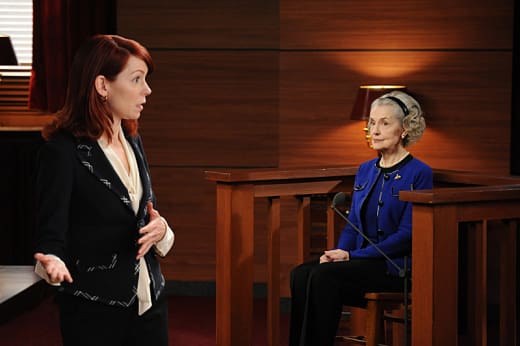 The showdown between Elsbeth and Josh was both the best and worst part of the episode. The back and forth between the criminal and civil courts highlighted Elsbeth's ability to manipulate the law to her advantage. She was a formidable force in court ready with a counter-move for anything that Josh did. It was entertaining to see what Elsbeth would come up with next. Musical co-conspirators, anyone?
Outside of the courtroom, Josh's fixation on Elsbeth was creepy. The awkward lunch started off with the potential to be funny, but instead turned ugly. Because they were facing off in court, it's not like she could avoid him. She did use his affection to her advantage, but it was uncomfortable to watch.
Elsbeth wasn't the only one dealing with an awkward romantic situation, so were Alicia and Will. Their conversation in the elevator didn't resolve anything. Will's proclamation that it wouldn't happen again didn't address their underlying feelings for each other.
After he left, Alicia was standing there disappointed. And what did she do? She ended up in Peter's campaign bus. Getting dressed again. If you know what I mean!
After all the debate from fans this season about Alicia and Peter's relationship, their encounter this time proved that their sexcapades have not been about a reconciliation.
When Peter suggested that he and Alicia go out on a date, she was taken by surprise. She hasn't been dropping by for visits to rekindle their marriage, but to have some fun and to have control over an aspect of her life.
Alicia needs to make up her mind what she wants and go for it. If it's Peter, then stop playing games and recommit to him. If not, stop with the visits. She's a partner now, so if she wants to be with Will, they should be in the clear with the firm. Whatever it is that she wants, she should go for it. Once the election is over, there's nothing keeping her with Peter.
If she waits too long to go after Will, he may no longer be an option again. Laura was all over him. There was no mistaking her interest in him during the pitch or later. And after the elevator talk with Alicia, he started to flirt back, which isn't good for any of them.
The strongest relationship on The Good Wife is probably between Peter and Eli. Their separation due to the criminal case wasn't good for either of them. Jordan's guidance was so off the mark that it threatened Peter's campaign.
Given Peter's predisposition for cheating, it was strong of him to stick by Jordan and not give in to calling Eli initially. If he had that kind of control earlier in his life, he may not have lost Alicia to begin with. 
But Peter isn't married to Jordan and with Alicia's urging did give in and seek advance from Eli and it saved the debate. Their reunion at the end was a beautiful thing. They missed each other and closed it with a hug. Aww. Now, they just have to bring down the insufferable Maddie! And then on to Washington?
I'll be glad when the election is finally over; the debate finally added a bit of a punch to an otherwise boring story. Though, now that Eli's troubles are over (please!), perhaps it will get a much needed jump start.
Odds and Ends
I'm going to miss the friendly relationship between Alicia and Cary. I hope that she decides to buck the traditional partner attitude and decides to be a friendly, but authoritative boss. It is possible to be both.
Diane's turn at playing Maddie during debate prep was fun to see. She showed that she could be a strong political candidate.
Lamond Bishop may not have shown up in person during the episode, but his presence was heavily felt. The firm lost the State's business because he was their client. And, Diane was all over Alicia about the number of billable hours he was being charged. It can't be long before he's back, right?
I can't remember a single time I've been a fan of Jackie, but she was actually rather brilliant with her testimony. She told a truth and one that ultimately saved Eli. Nice play, Jackie!
Should Alicia make a decision about Peter? Or, just keep up this casual, uncommitted relationship with her husband? Are Will and Alicia really over? Do you miss the friendly relationship between Alicia and Cary? 
Carla Day is a staff writer for TV Fanatic. Follow her on Twitter and on Google+.