The Following Exclusive: Natalie Zea on Proactive Claire, Love for Ryan and More
Jim Halterman at .
While we haven't seen a lot of Claire Matthews on the last handful of episodes of Fox's The Following, that all changes tonight.
But can Claire escape the clutches of her evil ex-husband while still getting her kidnapped son back?
I grabbed some time late last week with Natalie Zea and chatted with the actress about what we can expect in the coming weeks, how Claire truly feels about Joe and Ryan Hardy, as well as what we can expect when she pops back up on the last two episodes of this season's Justified Season 4...
----------------------------------
TV Fanatic: Talk to me about your experience on The Following. I'm curious how maybe this show and this role have challenged you differently from other roles, if it has.
Natalie Zea: Well, there's a lot more action involved for me. I generally tend to do a lot of stuff where I sit and talk or stand and talk, if you will, especially by an elevator when it comes to Justified. So, I'm getting bruised up a little bit, which I've got to say I don't mind. Just the level of emotion that I'm forced to sort of stay at consistently, that's challenging. But again, when you decide you want to do this for a living, those are the sorts of things you think you're going to get to do all the time. Then more often than not, you end up sitting and talking to somebody in a room. It's great. It's challenging but it's the kind of challenge that I think we all hope to have.
TVF: Is it safe to say then we're going to see Claire taking more action moving forward?
NZ: Oh my God, yes. She's going to stop being reactive and become active. I mean, wouldn't you be sick of it at this point? I'd be like 'where is the kid? Let's get serious about this. I've asked 400 times, nobody's answered me. I'm going to find out on my own.'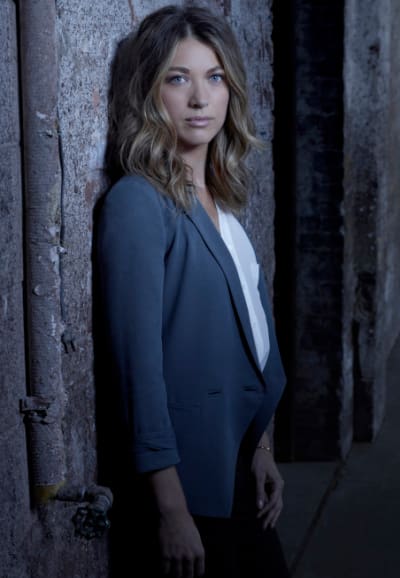 TVF: What are Claire's feelings for Ryan and Joe as far as what we're going to see moving forward?
NZ: It's pretty black and white. Somebody asked me early on, 'Well surely she has latent feelings for Joe.' Well surely she does not. I can assure you there's none of that. I don't even know if we teased that. I don't think we do because it's so important to me that there's not that red herring. Part of what gives her strength is that she's not going to fall under his spell like everyone else has. She seems him absolutely for what he is, and he's a monster. She doesn't shy away from that.
As to Ryan, it's complicated to say the least. She loves him. I think he loves her. When you come together in such dire straits, I mean it's got to be impossible to maintain any kind of normalcy and try and have a real relationship after all of that. Just because the circumstances have changes her feelings haven't, which make it all that more bittersweet, I guess, to be reunited with him.
TVF: In regards to Joe, is Claire maybe going to have to put some of those feelings in a box to get her son back?
NZ: Yeah, the things a woman will do to get her kids back. But at the same time, I don't think her integrity is ever sacrificed. That I find to be pretty wonderful.
TVF: How has it been working with Mr. Purefoy and Mr. Bacon, who are both so good on the show but I'm guessing they're different kinds of actors.
NZ: They are and they're not. The common thread that the two of them have is that we all obviously take our jobs seriously. There's never that moment where you feel like you're working with a freak. I've certainly worked with actors who are trying to convince themselves that this isn't pretend and that it's something deeper than that. While we all have to do what we have to do in order to get to the places we need to go, it never feels as though either one of them are doing it at the cost of alienating anyone around them, which is lovely and I think a sign of a true professional.
In terms of how they're different, I can only speak to the differences between the tone of the scenes that I played with each of them. The tone with Kevin is generally a lot more understated a little more subtle. It's more about the subtext and what's not being said. With James I get to go full on melodrama, as does he. So, I sort of get the best of both worlds with the both of them.
TVF: Who are you sharing some of your scenes with in the coming episodes? Will we see you with Joe and/or some of his followers?
NZ: I will say that I end up getting to do scenes with pretty much everybody.
TVF: Tell me about just the fandom of the show. What are you hearing?
NZ: Yeah. People are very loyal. It sort of parallels in a creepy, kind of scary, unnerving way the whole premise of the show. You know, people get really attached and sometimes even much to their own chagrin. They're like I don't want to but I can't not. So, it becomes addictive. We were talking the other day about the DVR numbers and how they're so crazy and great and big. People are attributing that to housewives wanting to watch it during the day. So, we've sort of taken the place of soap operas, ironically.
TVF: Okay. I know you're back on Justified this next week as well. Are things possibly going to be okay for Winona and this baby?
NZ: I will say two things. I'll say that... the finale is going to be crazy. I can't speak to anyone else's scenes but the scenes I'm in are going to be pretty badass I think. I'll also say that Graham Yost [creator] has always promised that the baby and Winona are going to be fine.  So if you believe show runners, which, by the way I don't, then, yeah, we're fine.
Jim Halterman is the West Coast Editor of TV Fanatic and the owner of JimHalterman.com. Follow him on Twitter.