"Cowboy Up" was a fun filler episode of The Client List.
It was really needed after the first couple episodes of the season and the tension of Kyle's return, the police searches and worry about Riley's future. Her future is hardly settled, but she was in a better place this week and less stressed. It was nice to get back to "normal," as normal as things can get for Riley Parks, that is.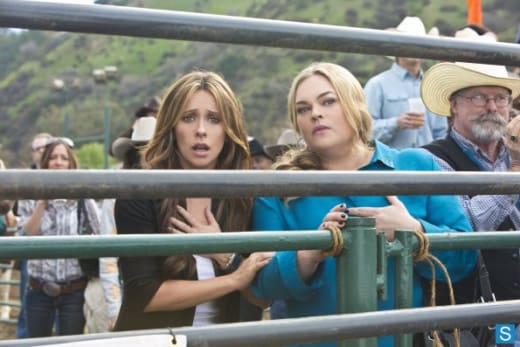 Yikes. If Kyle is telling the truth, the copper wire he stole was only worth $20,000, but the creep Riley visited last week plans on lying about how much was stolen so he can scam the insurance company.
Therefore, he told the police it was worth $80,000. Now he knows who Riley is, that she's willing to give him money - and everything with that situation is just bad, bad, bad. Thankfully, it was just a teeny slice of the hour.
When Evan showed up bruised and wasn't around as much as usual, Riley expected the worst. Instead, he was riding bulls trying to make extra money to help her out. Is there anybody who doesn't want an Evan in their life? Other than Riley, apparently. When he gave her the money he won in the contest and said he was doing it all for her, she refused to take it. She said it's too hard to take money from him for Kyle. But Kyle is his brother, so it's not like it's a wild stretch.
Granted, they're dating, but their brotherly ties aren't going away no matter who Riley ends up with, and watching her struggle financially has to be killing Evan. It was wrong of her to turn him down. What was really amazing was hearing Evan's reason for wanting Kyle out of jail: because Riley has to choose and in order to do it they need to be on a level playing field. Evan is simply amazing. Is it wrong for a reviewer to show such a bias? Too bad.
One thing Riley did get out of Evan's bull riding was a masseur for The Rub. He had some skills they needed that they didn't even know they needed when one of Riley's clients came in without an appointment apparently right in the middle of some sort of attack. It seemed like a PTSD episode related to the military, and somehow the new dude, Derek, was able to spot it from a tattoo and calm him down before things went too far.
Georgia was not a fan of the idea of bringing a man into the business, mostly because she doesn't like women, but if she had been there at that moment, I think she would have had a change of heart. He earned himself a job and a free room rental for the week. The guy is a really good person, however, so I wonder if he would ever be willing to take things to the next level, so to speak, with the ladies. That will be interesting to see. In the end, Georgia was one of his first clients. Brilliant!
Since Riley didn't like Evan's many other pursuits, he decided to go after what he really wanted - to be a police officer. Lacey pointed out that might be just a little too close for comfort considering the circumstances. But given everything he has done for Riley, she was hardly going to crush his dreams by dissuading him to go after them so she could look after her own ass. Riley didn't have to crush his dreams, because Kyle did it for him. Having a felon in the family got him cut from the process.
That's when Riley stepped up to the plate and went to Taylor and asked her to pull some strings to get Evan into the academy. Instead of dissuading him, Riley will be the reason he goes into the force. They're amazing for each other. That's something that didn't slip past Kyle, either. When she went to tell him he made bail thanks to help from Evan, he almost turned it down. There's a big fight coming between the Parks brothers. One an accused felon, the other soon to be in the police academy and both in love with Riley. It's going make great television.
I'd be remiss if I didn't mention one of the best parts of the episode before I go. Linette found an old flame and started up a sexting relationship with him. She was sexting like crazy and acting like a school girl. Check out this The Client List quote because it was just a teeny bit of what was happening and it was so fun to watch!
Riley: Give me the camera and I'll take these pictures. Then we need to talk about Dick. (Lacey laughs) I mean what you want to do with this Dick. (Lacey laughs harder) Lacey, will you stop it! | permalink
How much are you looking forward to Kyle being out of jail and The Client List firing things up between Evan and Kyle?
Carissa Pavlica is the managing editor and a staff writer for TV Fanatic. She's a member of the Critic's Choice Association, enjoys mentoring writers, cats, and passionately discussing the nuances of television and film. Follow her on Twitter and email her here at TV Fanatic.