Long before there was Brangelina, there was "Kyddshaw." I'd be willing to bet that most TV critics factored that moniker into their reviews of the latest episode of The Carrie Diaries! 
In "The Great Unknown" we got to witness what it was like for Carrie to be one half of Castlebury High's It Couple: Carrie Bradshaw and Sebastian Kydd.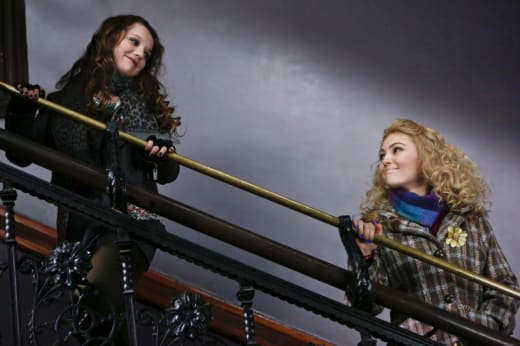 Out of the two Bradshaw sisters, Dorrit is definitely the more brazen. Dorrit seems fearless at times, something that is indicated by her sorta scary demeanor. Were you surprised that she chose the day Sid Vicious allegedly stabbed girlfriend Nancy at Hotel Chelsea as her important day in history? There are a lot of stories and theories surrounding this incident, but as Carrie put it, it's just plain "morbid." 
I was impressed with Sebastian's detective work in tracking down Dorrit. Carrie never would have thought to look there. Carrie and Dorrit's conversation at the hotel was probably my favorite scene of the episode. They opened up to each other about how their mother's death affected them each differently. Dorrit wants to live everyday and experience everything even if it scares her. Carrie wants to be as cautious as possible.
Carrie's cautious and perfectionist ways should come as no surprise to anyone who watches this show. Have you seen the The Carrie Diaries Thanksgiving episode when she almost gave herself an ulcer trying to pull off the perfect holiday gathering? Some people may have found it weird that Carrie burst into tears when Sebastian was being such a great boyfriend, but I can't say I was all that shocked. Once you have something you love, you have something to lose. Carrie already lost a lot in the past year, the idea of more loss terrifies her.
I think I know why they call it falling in love...because it feels like falling off a cliff. | permalink
So not only did Sebastian rescue Carrie's little sister after she yelled at him, but he was such an understanding boyfriend when she confessed her other fears. Excuse me, but I think I'm now falling in love with Sebastian Kydd!
Elsewhere at Walt's, nobody was falling in love but a new bond was definitely being formed. Walt and Donna connected in a new way that he and Maggie never did. This way, much to Donna's surprise and dismay, had nothing to do with sex. But Walt finally found someone he felt he could open up to enough about his sexuality. Despite the fact that Donna is supposed to be the bad girl villain of the cast, I really do think she will keep Walt's secret and be a good friend to him.
Mouse's competitiveness was cute. Tom's complete confusion over getting a random blow job was hilarious. I really loved his conversation with Larissa, particularly the part when he scoffed that women don't discuss sex the way men do. Oh Tom, if only you could flash forward 15-20 years and get an HBO subscription. 
What did you think of the latest episode of The Carrie Diaries?