Smash Review: The Hit List is a Go!

Carla Day at .
Smash finally got where it needed to be on "The Fringe" ... almost.
With the introduction of The Hit List, it was inevitable that Derek and Karen would leave Bombshell behind to join the soon-to-be smash hit from Jimmy and Kyle. With Derek there and direction changes at Bombshell, it shouldn't be long before Karen joins him.
At this point, the new show has me more engaged. The music is better (loved "Heart-Shaped Wreckage), the people involved still have their innocence and passion for the project, and it is struggling in its infancy.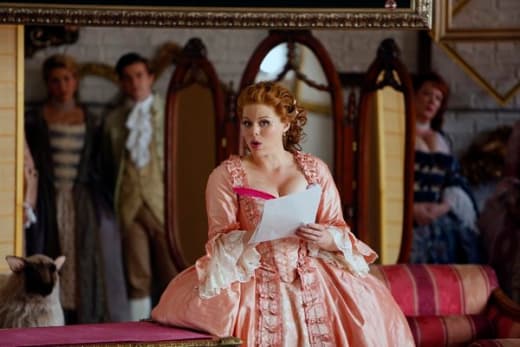 Bombshell has grown tired with bickering and rehashing material over and over again. Plus, Jerry is just despicable. As Derek pointed out, it was painful to watch Eileen agreeing with all of his decisions whether they were best or not. In "Fringe," this show moved forward too. With Derek out and Tom in, the show will have a new freshness about it. Well, that is, once Karen leaves and Ivy becomes Marilyn. She was always Tom's choice for Marilyn after all.
Often transitional episodes are boring by singularly serving their purpose to move characters and story along to get to where the action happens. Thankfully, this episode was not that at all. Instead, it was full of drama, tension, while moving the story closer to where it needs to be. Given the short season, this transition happened one episode later than it should have, but I'll blame that on the Jennifer Hudson Smash episode.
With both Bombshell and The Hit List put back on track, one of the shows had to have a set back, right? Poor Ivy. She thought she had finally found a show headed to Broadway that would showcase her talents in Liaisons. It was heartbreaking to see Terry cut her brilliant performance without consideration just because she out-shined him. Ivy, the former diva, finally found self-confidence to only be hustled to the sidelines.
Ivy's trials throughout Bombshell humbled and helped her learn to love herself. Those traits allowed her to be honest with Terry, since she didn't have anything to lose. Terry repaid her honesty with his trust and a determination to put on a great show. The question is what will he think the next day? Since he is off his medication, he's behavior has been unpredictable and he could easily change his mind.
Next week's episode seems to be aptly titled, "Musical Chairs." By the end of that hour, will Karen be on The Hit List with Derek and Ivy on Bombshell with Tom? That would be the predictable outcome and since this is Smash and not a thriller, predictably works. This shift of characters is what's best for the actors and the shows. If that happens, which one will make it to Broadway first?
Bombshell has a complete book, cast, writers, and a director all set, but the Jerry-Eileen situation could cause a delay. The Hit List has most of the songs completed and looks to have the backing of a theater and Derek as a director. It could be a tight race. As much as I was getting tired of Bombshell, I'm glad that it is moving forward. Which show are you finding the most interesting?
Odds and Ends
Given Julia and Tom's stressed partnership, it wasn't surprising that she would consider working with Peter. Plus, a trip to London would be exciting. With Tom as director and Jerry on his way out (right?), she should stick with the show she wrote and loves.
Julia still has a son, Leo. Nice to know.
Even though Derek and Tom have been getting along, Derek threw in a nice jab about their complicated relationship.
Until this episode, I hadn't considered Tom as a director. Nice foreshadowing with his level of input and influence over Veronica Moore's show.
This "friendship" between Karen and Jimmy is going to heat up, right? Please! And, sorry Kyle, but your guy's taken even if Jimmy doesn't realize it yet.
Ellis is a horrible person. It makes sense he would team up with another evil person. I can't wait to see Eileen take them both down. And, no offense to Jaime Cepero, but I hope we don't have to see the conniving man again. It's bad enough we hear his name.
Are you happy with the direction of the musicals? Will Ivy end up as Marilyn? What are you loving and hating so far in
Smash
season 2?
Carla Day is a staff writer for TV Fanatic. Follow her on Twitter and on Google+.