Mandy was still trying to improve Lip's life, Frank became a gay rights activist for domestic partnership benefits and Mickey and Ian came to blows in "Frank the Plumber."
So it's just another day for Shameless.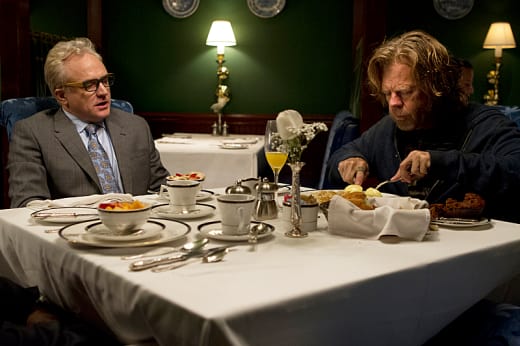 Frank being a gay rights activist is about the least surprising thing that's ever happened to him, considering his unending quest for a free ride, yet I also felt sorry for the guy as he went to the bar. Frank is always cold and crass, naturally, but in a small moment of karmic justice he's now on the receiving end of some old and tired stereotypes.
Those tired stereotypes did get him free drinks, so Frank's long tirades are finally beginning to have a positive side, but what's most surprising is having Frank as the poster child for the gay rights movement. The man can't stay focused for that long, and when he missteps, well, that's going to set the whole movement back.
Jimmy's minimum wage living is a much needed dose of reality for him, but so are his thoughts of heading back to medical school. He's an enjoyable character, and his relationship with Fiona is a lot of fun, but he's always looking for a quick exit or easy money.
The medical school idea puts both of those traits at odds - and Fiona might be stuck in the middle. Heading back to school affords Jimmy the exit he might want from all the craziness he's dealing with, but school isn't a quick fix. Nor does it result in immediate cash.
If Jimmy was to skip town again I'm not sure I'll miss him (and this is coming from a big Fiona and Jimmy fan) because Fiona's chemistry with her new supervisor, Mike Pratt, was very enjoyable to watch. Fiona's temp job inspired her and made her happy, and Mike praised her for the good work she did that day. Fiona finishing a workday happy is something we barely ever get to witness. Once in a while, it's great to see a Gallagher win.
Lip's infatuation with Karen is annoying. Karen has never truly been in his corner or wanted anything for Lip other than sex. The girl is a user, and I have no sympathy for her and her self-made plight. I may have actually cheered and raised my hands up when I saw Karen get mowed down by Mandy's car. Does this make me a terrible person? Most likely, but I'm willing to take the image hit if it means we can finally be done with Karen.
You keep up the good work, Mandy.
Finally, we have Mickey and Ian. Never have I been so divided in rooting for two people. On one hand, the strides Mickey was making this season with Ian were wonderful, as he was finally breaking out of his own closet. But, on the other, his father literally trying to beat the gay out of him has sent him running back in.
I can't blame Mickey for wanting to go back in and slamming the door, it's necessary for his survival, but it's just so hard to see him take out all of his vulnerabilities, fears and insecurities on Ian. The beating could be Mickey's own way of showing Ian how much he loves him, that he would literally beat his face in, if it means he could pull Ian out of the toxic situation he's in with his father. However, like Fiona, I would love to see this Gallagher win one. Maybe he can give Jimmy's dad a call.
That wraps up this week for Shameless Season 3, TV Fanatics.