R.I.P. FauxManda. Watch out Conrad Grayson. Emily Thorne is back and seeking "Retribution" on Revenge. 
Tonight Emily's quest to take down those who took her father away was renewed. As she told Aiden after chucking the laptop into the ocean, there can be "no more distractions." The game is on. I'm eager to see Revenge pick up the pace and tonight was a great start.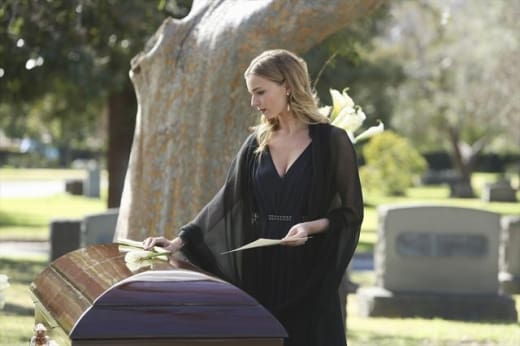 After hearing Amanda's quasi-revelation on the boat that she returned to the Hamptons to avenge her "father" against the Graysons, Jack is left wondering who, exactly, he married. He now believes that everything between them may have been a lie. He also knows now that she and Emily have a shared history that is deeper than he originally thought.
While I know that an hour before her funeral was neither the time nor the place, I've always wanted Emily to tell Jack the truth about her identity and tonight, while he was yelling at her and shoving Amanda's letters in her face, I was practically yelling "tell him the truth!!" at my television. But I know she can't. It's not the right time. 
He deserves to know that while FauxManda may not have been the girl from his childhood, she loved him as deeply as the real Amanda, if not more so. He deserves to know how big her heart was and that she died to save his life because he was the only family she had ever known. 
Did it get dusty in here all of a sudden or is it just me? I'm oddly sad about FauxManda's passing and what it means for Jack and baby Carl. And even Charlotte, who is as meddlesome as the rest of her family with only half the brains. Getting in touch with Amanda's foster family so that a former foster brother shows up in the Hamptons? Charlotte! What have you done?
Emily's eulogy for Amanda was a moving tribute to her fallen sort-of sister and hinted at what's to come for those who took away Amanda, one of the only people Emily has ever loved. 
And what's to come for the Graysons and those who get in Emily's way while taking them down is nothing but destruction of all kinds. I like it!
I'm ready to see Emily scheme and plan and undermine Victoria and Conrad and finally do what she set out to do by ruining all that they were, are, and could ever be. 
If she manages to also take down the Initiative in the process, I'm good with that, though Nolan giving Padma the Carrion program may have just made things more difficult for Emily and Aiden. When Daniel showed up to NolCorp and told Nolan to destroy the program, part of me wanted to pat the kid on the back for having an idea of his own. But then part of me realized that not only would Padma's dad die, the Initiative would probably also come after Nolan. 
Trask is weird and creepy and the weird creepiness overrides any sinister effect the character is supposed to have. I'm tired of watching Victoria and Conrad spin their wheels trying to lie to him and throw him off their trail. The Initiative story needs to be put to bed already. Perhaps Daniel sending the clock-cam out to be serviced is an omen to that end.
Time is up for the Initiative.
What did you think of "Retribution?" Are you ready to see Emily go to work on her revengenda once again? To read Emily's eulogy for Amanda, and more, check out the Revenge quotes page, and look for the Round Table coming soon!
Miranda Wicker is a Staff Writer for TV Fanatic. Follow her on Twitter.