After series creator Jonathan Nolan tried something vastly different - yet still important - to the overall larger story in "Relevance," this week's Person of Interest was back to more or less a case of the week in "Proteus."
With most of the focus centered on Reese and Finch finding an elusive serial killer who changed his identity, all while trapped on an island bombarded by storm of the century type waves, the title of the episode, a reference to the Greek sea-god of the same name who would often transform his shape, was a pretty spot on description.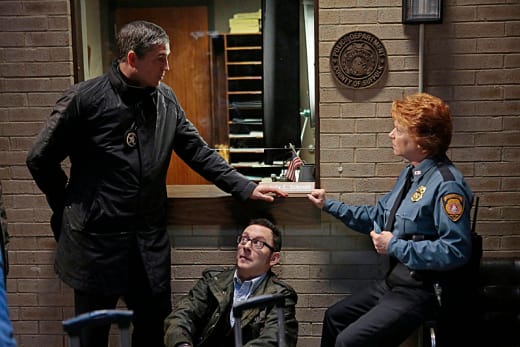 Surprisingly, the mystery involved was compelling enough and not overly obvious when it came to the actual culprit. Mind blowing, no, but it was well done in keeping all of the characters involved potential suspects.
Initially, the only other new guest-cast member I recognized was The Wonder Years' Dan Lauria. More often than not, an actor with a pretty hefty resume filling out a smaller role on a procedural type show ends up being the surprise twist bad guy.
Yet, the variety of other suspects had enough potential to be the killer themselves that I couldn't nail my finger on who it might be. Each time I wanted to guess someone, my mind immediately thought someone else. Even that guy who mentioned being a dentist made me think of the teeth Finch found that hadn't burned.
So, the reveal of the "FBI agent" as the chameleon of the group was a good one at the same time, even if I wanted to claim I knew it all along.
The moment when Finch discovered who the killer was wonderfully shot with the lighting flashes showing him standing in the dark. It was creepy and fitting for the moody tone that had been established.
Now, the so-called identity thief turned into a bit of an over-actor when confronting Finch which seemed a bit silly, but it did work in his favor for scary when he began imitating him.
Although the classic I'm-dead-but-I'm-not-dead move for him made me laugh, at least when Reese essentially did it to take out the fisherman, it looked cool.
And are those glasses Finch wears actually fake? There really is a lot we still don't know about our hero of the show.
We do know that Carter is definitely still on Finch and Reese's side (where was Fusco?), but she was still questioning Cal Beecher's background. He saved them sure, but is he really a good guy that's misunderstood? Remember, Beecher is related to the head of HR.
I'm still not sure if he can be trusted.
Of course, in classic Person of Interest fashion, despite being a pretty basic number of the week, the larger story was still hinted at in regards to the Machine having something of a glitch.
Yes, while it did come up with the six numbers to sort of help out in finding the killer, Finch noted that it had been quiet for three whole days. What does that mean? Was it because Kara inserted that program before Reese could stop her?
I'm definitely intrigued at how the show is delving deeper into what makes the machine tick.
Whatever the silence meant, it's clearly not good. Like Finch mentioned, the real storm is just getting ready to happen.
Sean McKenna was a TV Fanatic Staff Writer. He retired in May of 2017. Follow him on Twitter.