Once Upon a Time Spoilers: Going Dark, Finding Neverland, Changing the Game
Matt Richenthal at .
Once Upon a Time is sorry to confirm the news, but even true hearts can lose. That much was tragically proven on this week's "The Queen is Dead."
And with Mary Margaret witnessing the death of a beloved acquaintance, what will this mean for the character going forward? Ginnifer Goodwin gave fans a preview during the show's PaleyFest panel yesterday afternoon in Los Angeles.
"What she is going through is going to shake her self-identity, her self-definition," said the actress. "If she's not the Snow White she can read about it in story books, then she doesn't know who she is. That opens a lot up for her. She can get in touch with a more evolved way of protecting herself and her family."
And that certainly looks like what we'll be seeing on next Sunday's "The Miller's Daughter."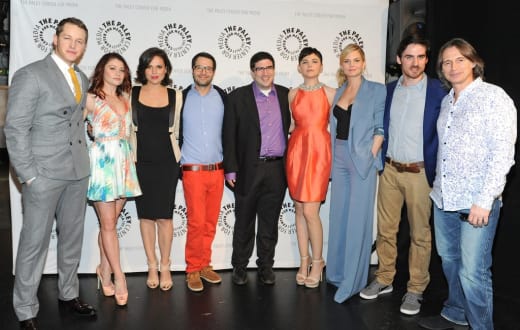 Along with this new, scary side of Mary Margaret, here is an idea of what fans can expect to close out Once Upon a Time Season 2, courtesy of this revealing cast Q&A:
A Trip to Neverland? The concluding pair of episodes will be titled "Second Star to the Right" and "Straight on Till Morning." Yes, these are the directions to Neverland.
With Bae on his way to Storybrooke, Robery Carlyle teased "a game-changer [in Episode 22] that really happens in terms of the relationship with [Gold's] son."
Fairy Tale World, 2.0? "As much as David likes electricity, he misses his sword, his horse and his castle," producer Edward Kitsis said of a possible fairy tale land return. "He wants to kill some ogres and wants to rebuild his land. That is something a lot of people will get on board for, but we'll see what happens."
Hook will be away for awhile and then "out for himself" when he comes back, according to Kitsis.
She tried going good for awhile, but "Regina as the Evil Queen is going to make a comeback in a different way," said Lana Parrilla. "And it's going to be exciting to see."
We will flashback on the episode "Welcome to Storybrooke," heading to 1983 and the week when the curse was first enacted. This installment will mark the returns of Sheriff Graham (Jamie Dornan) and Billy the Mechanic (Jarod Joseph).
Talk of a spinoff was very premature. Sebastian Stan will return at some point and continue to portray Jefferson.
Matt Richenthal is the Editor in Chief of TV Fanatic. Follow him on Twitter and on Google+.