Marisa Ramirez Previews Stint on Blue Bloods, Fear of Tom Selleck
by Jim Halterman at .
As we reported earlier in the week, Marisa Ramirez has signed on for a five-episode arc on Blue Bloods, coming on board the CBS drama as Detective Maria Baez, the new partner of Donnie Wahlberg's Danny. Her first episode, "Protest Too Much," airs tonight.
With past roles in Against The Wall and Spartacus: Gods of The Arena (and, yes, another recurring role starting next month on ABC's Body of Proof) it's a wonder the in-demand Ramirez found the time to jump on the phone in between shooting scenes in cold NYC - but she delivers an abundance of exclusive scoop to TV Fanatic in the following Q&A.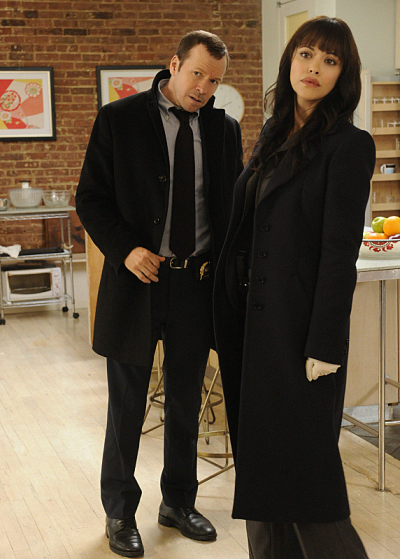 TV Fanatic: How did the gig on Blue Bloods come about?
Marisa Ramirez: They called my agent and offered an episode to me and it was right before pilot season was about to get crazy. So, I didn't know the whole history behind all of Danny's partners. When I read the script I didn't think that it would even be recurring. I just thought they needed a partner to solve the crime for an episode.

I came in to New York and shot that episode and just had the best time. I got along with everyone really well and they asked me to be in the next one…and then they asked me to be in the next one. So, I was like, 'Wow! What's happening right now?' I had no clue that this could possibly continue into more. It was just so surprising. I'm so honored that they kept asking me to stay. So, I'm here.

TVF: What's Maria Baez all about? Do you know her backstory?
MR: Honestly, I have no idea because when I first came on they never really gave me the back story. I think they didn't even know if they were going to have me back for more. All I know is there is a history between Maria and Danny. They've known each other for 10 years. I am not sure how. I imagine they worked patrol together but it's nice. They have a little banter back and forth because of their history. I know she's single because I'm not wearing a ring on the show. She's from New York. She's just a chick solving crimes, sort of thing, with Danny. They work well together.

TVF: Is it purely professional or is there some flirting going on between them?
MR: No flirting. It's kind of like a brother-sister relationship, for sure…very respectful, very friendly, but definitely no flirting. They probably have known some of the same people for the past ten years and have seen each other around and now they're working together. It's fun for both of them but it's strictly a professional relationship.

TVF: Have you had scenes with Tom Selleck? I mean, he's Tom Selleck!
MR: I can't even say hi to him because I'm a little nervous. I just smile a shy little girl smile and keep walking. I don't know what to say. No, I haven't had any scenes with him. I'm sure if I did I would handle myself professionally. It would be fine. We'd get through it. My character doesn't really interact with his.

TVF: Since you have played these roles in the past, how do you kind of make it fresh for yourself so it's not just a caricature of just another cop.
MR: Well, I think the location has a lot to do with it and Danny, the person I'm working with. Against the Wall was working with Rachael Carpani and we're sort of very girly, but still tough.

With this, I'm working with a dude. I have to sort of match my personality with his and not be, basically, a girl detective, at all. I don't really know how I change it up. It's just something that I discover, I think, when I put on my wardrobe and read my lines over and over again. Putting the gun on actually plays a big factor in how I feel for the day, I guess.

TVF: The buzz earlier this week was that this could possibly become a series regular. Is that anything that they've talked to you about?
MR: I mean, there is definitely a series option but I'm not going to know anything for awhile and I really have no idea. I would be completely honored if they asked me to stay as a regular. It's just such an amazing show to be a part of and the cast and crew are just awesome.

TVF: Tell me about Body of Proof where you appear in a few episodes in April.
MR: I play Riley Dunn, who was the uniformed officer who came into help solve [a case]. She ends up sticking around and is sort of having a flirtatious relationship with one of the other detectives.

TVF: That show has a lot of very empowered women like Dana Delaney and Jeri Ryan. Did you get a sense of that?
MR: Yeah. There's always something very empowering when a woman is wearing a uniform and has a gun.  Working with Dana was great for me. I watched her on China Beach. It is such an accomplishment to be a woman of her background, her history and body of work…and to lead this show for three seasons now. She just does it so easily and gracefully. It was nice to watch her and be a part of it.

Blue Bloods airs Fridays at 10 p.m. on CBS. Body of Proof airs Tuesdays at 10 p.m. on ABC.

Jim Halterman is the West Coast Editor of TV Fanatic and the owner of JimHalterman.com. Follow him on Twitter.

Tags: Exclusives, Blue Bloods, Interviews
From Around the Web