This week on How I Met Your Mother, Robin and Marshall battled on the dance floor, while Ted took a long hard look at himself and his future.  
"The Time Travelers." was a mashup of Multiplicity, Shelter Island and A Christmas Carol that at times confused the Dickens out of me. Still, I thoroughly enjoyed the episode, despite doing the dog head tilt a few times. 
The revelation that the Minnesota Tidal Wave night happened five years ago was a sort of Sixth Sense moment, yet I was left a little confounded as to what to make of seeing all the "Ted people" Adding to the evening's twists and turns was guest star Jayma Mays.
Her performance as the two coat check girls was great. I loved the contrast between the smartly dressed version on the left and the one on the right wearing Ted's Wesleyan sweatshirt. I don't think she is the mother, though, do you?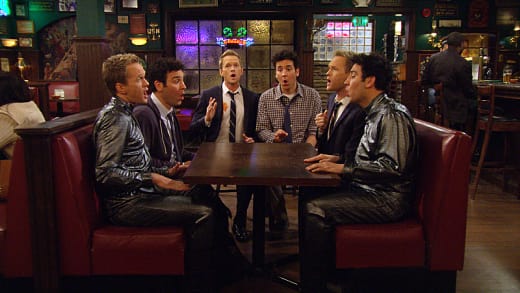 Was the takeaway from that scene supposed to be the need for Ted to break his pattern of dating?
Sure, Ted can be a bit neurotic, but I'm not sure showing up at a stranger's door and telling her about their future together is the answer either. What we were treated to may have all been in Ted's head, but it was hilarious all the same. I also liked seeing how he is really focusing on taking that next step in his love life. I had to laugh, however, when, 20 years from now Ted is teased by present day Ted about still not being married. 
As for Future  Barney, I too am guilty of an occasional scalp check, so he had me laughing at myself and him equally.  
With Barney locked up with Ted in the main storyline, the dance floor was open for someone else to step up and shine in the supporting plot. Robin's "I'm Sparkles bitch!" line was probably my favorite of the night. But start to finish Marshall was my overall winner, delivering several gems in the episode.
The first was him telling Lily she was killing him by not letting him dance his own battles. The second was when he accused  Robin of "Zuckerberging" him. And the last when he scoffed at Robin thinking she could "step up to the streets" and out dance him.  
The only thing keeping this episode from being legendary was how short the actual dance off was. The camera cut away just as Robin was starting to break off her Roger Rabbit. It did leave ample time, however, for Ted and Barney's rendition of "The Longest Time," which did the Billy Joel hit justice.
I wondered if the song is some kind of inside joke among the cast about how long the show has been running or how long they have kept the identity of the mother from fans.