The truth is that no one leaves this world with "No Regrets" but Erin's friend Trevor was certainly trying to wipe out a few of his before he left.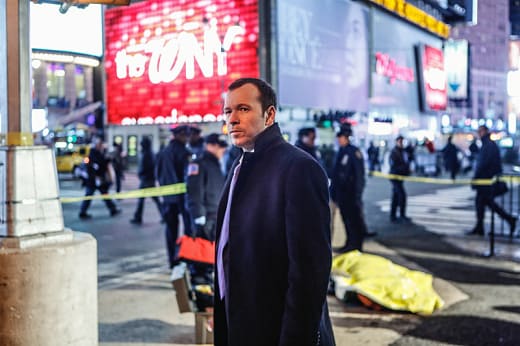 When the bodies started piling up around the city they appeared to be a case of random acts of violence. As Henry told the kids at Sunday family dinner in this Blue Bloods quote…
Henry: Nothing scares a cop more than a nut who keeps killing for no reason. | permalink
That's one of the great things about the Reagan family dinners. There are very few topics that are off limits.  Cases, politics, religion, it all comes up and is discussed and debated.  Thankfully even when the conversation turns to murder there's enough underlying humor to keep it from becoming completely maudlin as when Jamie and Erin tried their best to be supportive of Danny…
Jamie: It's not like you don't have any experience with crazy people
Erin: You grew up in a house full of them. | permalink
I had mixed feelings about Trevor's bucket list.  It's not that his victims hadn't slipped through the system but should he have had the final say on their fate?  
And I had to feel for Danny.  He's had lousy luck lately talking people down. Last week the guy failed to heed Danny's warnings and decided to go out in a hail of bullets.  This week Trevor decided to take his own life in front of Danny.  How many of those instances can Danny take before it starts to back up on him?
Jamie's case basically blew up in his face as he tried to do the right thing.  How scared must that little boy have been of his parents fighting to have run from his own home and out into the street?
But the mother's secret was bound to come out eventually.  How many plumbing issues can one apartment have?
Frank's friend was just a mess.  He lied to Frank. He walked out on his family. His ego and his alcoholism were ruining his life.  
Pete was darn lucky his ex-wife was even still willing to talk to him. Despite the way he left, she still seemed to care.  So did Frank, although he wanted more from his friend than a simple apology. He wanted to put Pete back on the right path.  Unfortunately it's up to Pete whether or not he takes it.
In the end there were no easy days for anyone in the Reagan family but I felt the worst for Danny as he had to give his sister the heartbreaking news about her friend.  Hopefully the Reagans have some good Karma coming their way soon.
C. Orlando is a TV Fanatic Staff Writer. Follow her on Twitter.