Madonna. Aaliyah. Eminem. Washboard Willie. Stevie Wonder. Bob Seger. Grand Funk Railroad. The list goes on and on.
The theme weeks continue as the American Idol Top 8 take on the songs from Detroit. In previous years, this has been a straight Motown week, but in the spirit of changing things up, producers have branched out to allow music from anyone hailing from Motor City.
The contestants will be mentored by the legendary Smokey Robinson. We'll also get duets and small group numbers in addition to the solo performances on which the contestants will be judged.
Let's get to it...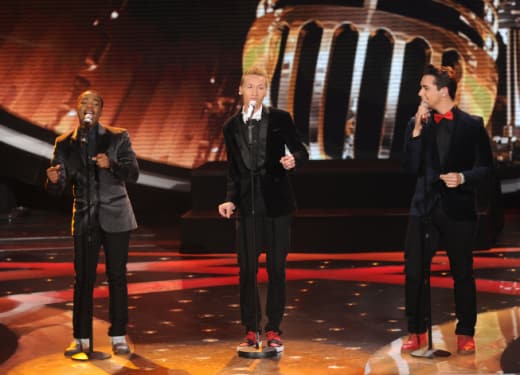 Candice Glover is Blues-ing up "I Heard It Through the Grapevine." The arrangement is a little slower than we're probably used to hearing and the jazz and blues influence is heavy. Candice is crazy talented and has some serious versatility in her voice. She can belt the high notes and also maintains control of her lower register. It's not my favorite performance of hers, but it's solid nonetheless. Keith says she raises the bar exponentially and also loved her control and the way she never overpowers on her vocals. He called this her best performance. Nicki gave her the compliment that she kept herself in the performance instead of thinking too much. Randy says she has one of the best voices in the competition this year. Mariah believes Candice epitomizes what this competition is all about. 4/5
Kree Harrison and Janelle Arthur team up on a Jennifer Nettles-inspired version of Madonna's "Like A Prayer." Janelle is more comfortable working the stage and performing, but Kree is clearly the stronger vocalist. It's cheesy, campy, filler music, but I don't hate it. Nicki says that it seemed like Kree flew in to do a performance with an Idol contestant and Janelle somehow manages to keep a smile on her face. Randy said the pitch just got away from Janelle a little bit. Mariah called this a "sisterhood" moment and praised the duo for working so well together. Keith thought the song worked well.
Trying to redeem himself after last week, Lazaro Arbos is singing "For Once In My Life" by Stevie Wonder. I've said it before, I like Lazaro as a person. I think he's a sweet kid. He's cute and has a heart the size of Texas. But he's easily the weakest singer in this competition right now. His performance never peaked. It wasn't as bad as last week, but it wasn't fantastic either. Randy called this performance far better than last week. Mariah thought he made a great song choice and felt that his courage was back tonight. Keith believes that Lazaro shines when he picks songs that suit him both vocally and rhythmically. Nicki said that Lazaro does best when he ignores Jimmy's advice. 2/5
Janelle Arthur is picking up her guitar to sing a arrangement of "Keep Me Hanging On" that she came up with when she was 14. This is a whole new side of Janelle and it's a side I'm happy to report that I love. It's fantastic! It's fresh and different and I could hear this version playing on the radio. Mariah said it was Janelle at her finest and threw Nicki and her duet critique under the bus. Keith loved her fearlessness and the arrangement. Nicki thinks Janelle's off her game vocally. Randy called it one of Janelle's best performances to date and gave us an "in it to win it." 5/5
Singing a Smokey Robinson-penned song, Devin Velez chose "Tracks of My Tears" for Detroit week. Devin was made for this song. Or this song was made for Devin. His voice is so pure and crystal clear and his falsetto is perfectly timed every time. I find myself wanting to listen to more and more of it the longer he sticks around. He's growing on me. Keith wants Devin to get out of his own head and relax into his songs. Nicki calls him a "ripe banana" and said he did an amazing job. Randy says Devin is back and loved his falsetto. Mariah loved it and said it was flawless. 4/5
Angie Miller, Candice Glover, and Amber Holcomb sing The Supremes "I'm Gonna Make You Love Me." The song seems too low for Amber and she's chewing out the words. Angie smiles her dramatic smile with her mouth and her eyes. Candice has a couple of nice moments. Mariah called it "pow." And none of the other judges got to speak.
Burnell Taylor is singing the Stevie Wonder song "My Cherie Amour." I want to see Burnell hold a microphone for an entire performance so he'll stop doing the weird thing he does with his hands. His voice sounds so current that just about anything he sings will be great. It wasn't my favorite of his performances, but it was solid. Nicki called it "very, very, very good" and said his voice is so rich and soulful that he could have been a Motown artist. Randy loves Burnell's choices and the small things he does with his voice instead of just big runs all the time. And "in it to win it" number two. Mariah said he gave the number modern flavor. Keith loves everything about Burnell's voice and says that he's so original he's hard to critique. 4/5
In an attempt to show her fun and crazy side, Angie Miller is singing "Shop Around." Once again she gets the critique to stop singing like she's in a musical. Jimmy's advice wasn't great, however, because I can barely understand the words coming out of her mouth. She's also off the pitch and goes flat a time or two. This is definitely not her best performance. She took a risk and I'm not sure it paid off. Randy said it's the first time he's ever heard her have a pitchy performance and says it wasn't great. Mariah wishes she'd done a better, slower number at the piano and suggested that she should've sung "I'll Be There." Keith thought the song's melody kept pulling her down and didn't match her energy level. Nicki didn't think Angie needed to try to show another side to herself and just needs to be true to who she is. 3/5
Amber Holcomb, reeling from her Bottom 3 placement last week, fights back with "Lately." I'm kind of stumped by Amber, to be honest. She has this huge, big amazing voice and something's missing. There's a disconnect in her performances that's hard for me to overcome. She has some really great moments tonight, and she definitely chose a song that suited her voice. It gets her a standing ovation from the judges and an "F" bomb from Mariah who calls it a "Tour de Force." Except no one seemed to know what she meant. Keith called her performance mesmerizing and beautiful. Nicki says that her performance was amazing and wants to see the twinkle return to Amber's eyes. Randy calls her the best vocal of the night. 4/5
The remaining gentlemen in the competition, Burnell Taylor, Devin Velez, and Lazaro Arbos, team up to sing "I Just Can't Help Myself." If there were ever three voices that did not at all go together it's these three. Lazaro looks like he's made of wood. Burnell just gets into the rhythm and doesn't stop bouncing even though he's giving one of his worst vocals of the competition. Devin was the best of the three. Nicki says she's going to pretend she didn't see or hear that and just ushers them off the stage. Burnell's defense was that he did what he was told and Devin says he learned his parts.
Closing out the night, Kree Harrison is tackling Aretha Franklin's "Don't Play That Song (You Lied)." Since Smokey said he'd call Aretha and make sure she was watching, Kree's feeling the pressure. Luckily, she's a pro so the pressure doesn't seem to get her down. The ending of tonight's song was abrupt and kind of awkward but, she's amazing every time she steps on the stage. Randy says it wasn't the perfect performance, but she's definitely here to stay. Mariah commends her for taking on the Queen of Soul. Keith loves that she keeps reminding people of the blues and soul that exist in country music. Nicki compliments Kree's unwavering confidence no matter what song she's singing. 4/5
It was quite clear from the opening that the contestants had their pick of any musician from Detroit yet most of them stuck to a Motown vibe, which has been the theme in season's past. The trouble is that the style doesn't work for everyone. And it certainly didn't work for everyone tonight. Theme weeks are always awkward and I really think a lot of tonight's issues were due to poor song choices. 
My top 3, despite some identical scoring, are Janelle Arthur, Devin Velez, and Kree Harrison. Janelle showed a new side of herself tonight in a way that paid off. Devin voice was well-suited for tonight's genre which made him stand out. Kree's my girl and I love her. I'm not ashamed to admit that I might be playing favorites with her. 
Amber Holcomb is a contender, for sure. She's got a great voice and range. But there's something about her performances that isn't working. She's not connecting to her songs or the audience so it's hard to get to know her. Even so, she had one of the stronger vocal performances of the night and would be my 4th pick for the best of the night.
In the bottom three this week are Lazaro Arbos, Angie Miller, and Burnell Taylor. Lazaro needs to go. It's time. If that wasn't clear from his individual performance, it was glaringly obvious after the group number. He's the weakest link.
What did you think of tonight's American Idol? Who had the strongest vocal of the night?
Miranda Wicker is a Staff Writer for TV Fanatic. Follow her on Twitter.