The drama. The tears. The heartbreak. The Bachelor spoilers.
Every season of the ABC reality hit features all of the above. Now that we're down to the wire in the 17th (!!) iteration of the dating show, speculation is running rampant over who wins the final rose.
Sean Lowe has a tough choice ahead of him. Will it be ...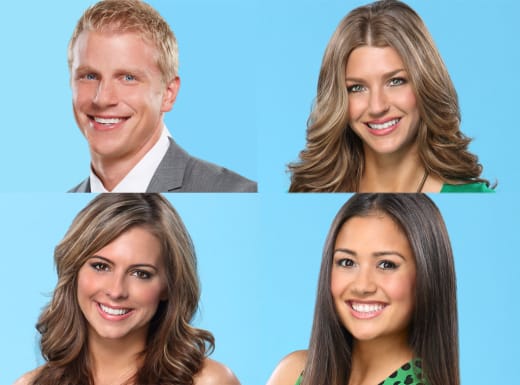 AshLee Frazier (top right), 32, the sweetheart from Houston, Texas, with a capital L in the middle of her name? She's certainly the most mature of the three women remaining ... but will that be enough?
Beyond shared values (both their dads are pastors) and backgrounds, they may lack the spark Sean finds with the other two girls. Though she may be the most ready to settle down, which he wants.
Lindsay Yenter (bottom left), 24, the adorable Army brat from Fort Leonard Wood, Mo.? She impressed on her hometown date, her family's great, and they clearly click together, but she's very young.
She may be the dark horse candidate because she's sort of flown under the radar - at least since she showed up in a wedding dress the first night - while slowly forging a very real connection with Sean.
Catherine Giudici (bottom right), 26, the effervescent visual designer at Amazon in Seattle, who's clearly the most FUN girl in the bunch, and someone Sean has had terrific chemistry from the start?
Before hometowns, you could've called her the frontrunner by a wide margin for that reason alone, but unlike the two other ladies, his visit to Seattle seemed to cast more doubts than anything else.
So who's it gonna be? Who do you think is the right match for the Dallas bachelor with abs of steel and a heart of gold? He doesn't drop the L-bomb lightly, but he clearly cares deeply for all three.
A couple of teasers heading into this coming Monday's overnight dates episode:
The eliminated bachelorette is reportedly devastated, and bursts into tears.
One woman draws a "moral line in the sand" regarding the Fantasy Suite.
Sean is a "born-again virgin" who is reluctant to go to the next level.
On the March 11 season finale, Sean does propose, and she says yes.
That's all we'll say for right now, but if you feel like you can't wait another two weeks, and NEED to find out who (allegedly) wins the final rose, follow the links above or here for The Bachelor spoilers!