"He's Back" is the understatement of the century. Daniel Hardman returned to Suits this week, guns blazing, to deliver another volley in the ongoing civil war at Pearson/Hardman.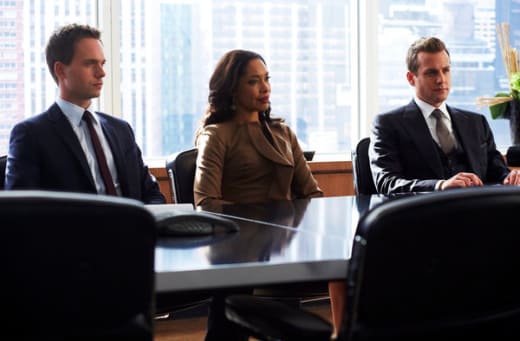 Let's face it: based on the Suits summer finale, we all knew it was only a matter of time before Daniel returned. But to be fair, in many ways it's like he really never left. The only thing that wasn't present was his body. The aftershocks have continued to rock the foundations of the firm Jessica, Harvey, Louis, Mike, Donna and Rachel call home.
This volley, however, really took it to the next level in every way possible. It took a ruthless bastard to not only bring a lawsuit against Jessica, but to do it using his mistress whose affair with her counsel got them both canned from the firm in the first place. However, it wasn't just the case itself that was disgusting, it was the vitriol with which Hardman pursued it that still has my blood boiling.
The plot was tactful and complicated. Daniel played 10 steps ahead. He thought if he could embroil Pearson/Hardman in a discrimination suit that he could derail the Folsom Foods case of identical nature. Well played, sir, well played.
While I am unsure exactly where we are in the success or failure of that particular goal, I do know where we at in terms of morale at Pearson/Hardman. Their rallying point? Their epic hatred for Daniel Hardman.
The struggle between Daniel, Jessica and Harvey is no surprise, but to see Donna and Louis get to take a shot at Hardman was something else.
I have never seen Donna with more commanding presence than when she lured Daniel into his old office and gave him a piece of her mind; she deserved the opportunity to do more than just slap Hardman. That will have to do for now, however.
But what about Louis? Talk about getting Litt up! Hardman really should start looking over his shoulder, because I swear Louis might really come after him. And I wouldn't blame him for a second.
Which brings me back to Monica. Is there even a word for the kind of evil that she possesses? Seriously, she's about to become the most hated women in America. Mark my words.
Despite the major drama that reverberated throughout the firm, there were a few hidden gems that riddled this episode.
Mike and Rachel were one of them. My first thought when hearing that Rachel was applying to law school at Harvard was that doing so would mean her absence from the Pearson/Hardman front. In order for her to return, however, it is important that she go to Harvard, as all of the firms associates are pulled from there. Does this mean that she'll be departing for a time?
If so, maybe we'll get our shipping fix from Donna and Harvey? If there was ever a time for us to start reevaluating the relationship that Donna shares (or would like to share) with Harvey, that time would be now. I was not expecting her reaction to Harvey's use of "beautiful."
The prevailing perception of the Donna/Harvey pairing has been more brother and sister than lovers in the night, so while I very much want to probe this intriguing insight into Donna's world and her perception of Harvey, I think it in everyone's best interest to leave that on the back-burner and give the majority of our attention to ridding our favorite legal eagles of their pest problem.
What did you think of tonight's episode, Suitors? What do you think the future holds for our favorite team?
C. Charles is a TV Fanatic Staff Writer. Follow her on Twitter.