Smash Review: On Broadway ... Maybe?

Carla Day at .
Goodbye Boston, Hello New York! Maybe.
On the Smash Season 2 premiere, Bombshell exploded - and not in a good way. After a successful preview in Boston, the show seemed to be destined for Broadway. Then, trouble hit from all sides: money issues, theatre blocking, writer depression, director sex scandal and negative gossip throughout the Broadway network. Will Bombshell make it "On Broadway?"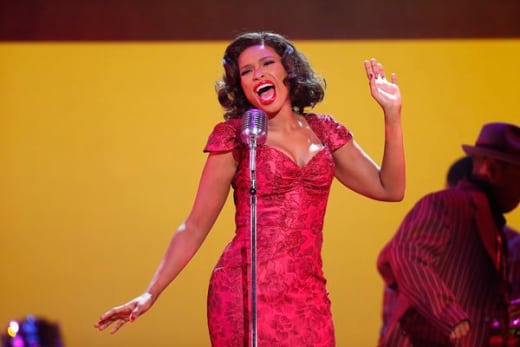 These issues make the show's previous problems seem like nothing, but in many ways the dysfunctional lives of those involved in the production may be its saving grace. Eileen will be able to keep the main players on hold, since no one else will take them.
All the changes were apparent right away. No more Michael, Leo, Ellis, Dev and a swift kick out the door to Frank. The casting changes from Smash Season 1 to Season 2 were handled in a natural manner. I'm looking forward to show's shift from personal dramas to the creative theatre world.
One main consistency is the rivalry between Karen and Ivy. Right off the bat, it was clear that Karen has the upper hand on Ivy and that's not going to change any time soon. They are perfect nemeses for each other. Despite all they have been through, it was no surprise that Karen would want Ivy off the show.
After Ivy's selfish behavior, she was making the move in the right direction. Her attempted suicide in Boston failed and apparently no one even knew about it. She even reached out to Julia to find a way to keep her job. She may have gone to Karen too late, but she laid it all out there. In that moment, Ivy was able to release the pain she'd been holding inside.
I felt sorry for Ivy. She made some horrible choices, but they shouldn't prevent her from having a successful career. Ivy was making a real effort to change. She not only auditioned for a ensemble job, but she left the diva attitude from her Marilyn audition behind. When she found Derek on the doorsteps, she didn't jump back into his arms. And, even after she was fired, she was there to perform for Eileen at the Broadway event. This new Ivy is one that I'm going to be cheering to see succeed. 
Karen hasn't turned into quite the diva Ivy was initially, but she's getting there. She made it clear that she was the lead on Bombshell. Her confidence and empowerment was a pleasure to see, especially with success in her professional life helping her personal life too. She may still hold a grudge against Ivy, but she's over Dev and ready to move on.
I already adore Karen and Jimmy together. He has a tough exterior, but his song showed there is much more to him. Did Karen go over the line to sing his song at the party? Maybe, but she didn't know Jimmy well enough to foresee the problem. 
In the end, she was the push he needed to get his music heard. Even though Karen has yet to perform on Broadway, she has the connections to get Jimmy and Kyle's musical in the hands of influential people. If Derek sees potential, they will get their shot. Kyle was right to tell Jimmy this was their one shot and that opportunity may never come around again. Plus, there's definitely some heat between Jimmy and Karen.
Smash's new direction was well set up in the first two hours. I still love Karen and that she's gained the respect that she deserves. At the same time, I'm glad that Ivy is changing from an annoying diva into someone likable. 
Could Ivy end up as Marilyn on Bombshell, while Karen leads the new Broadway show?
Odds and Ends
Veronica's (Jennifer Hudson) performances were amazing. She will be a great mentor for Karen. Their duet was beautiful as well.
Eileen's money troubles are going to be a problem. It was odd that her ex-husband ratted her out to the Justice department, but then without a fight gave her seats to the Broadway dinner. He got his wish though, he's going to get a piece of Bombshell.
Derek has always had a thing for the ladies. While it's disappointing that he is being sued for sexual harassment, it provides a reason for him to continue on with Bombshell rather than move on to another project. It was kinda nice to see him humbled by this experience. Would the women have gone for him if he wasn't a director?
Julia was a bit annoying. Get over it. Move on. Instead of dwelling on the bad reviews, fix it! Tom and Julia have a strong partnership, but I'm not sure it will survive her depression. Are apology muffins enough?
"It's time to retire the scarfs." -- Tom to Julia. I never noticed the scarves until people were tweeting and commenting about them. Funny nod to the critics and reason for her to give them up.
The music throughout the two hours was top notch. My favorite two songs and performances were when Karen sang Jimmy's song at the party and Karen's duet with Veronica.
Did you miss any of the characters left behind in season 1? Did you enjoy the addition of Ana, Jimmy and Kyle? What was your favorite song?
Carla Day is a staff writer for TV Fanatic. Follow her on Twitter and on Google+.