Most weeks on Shameless, Frank doesn't have a well-intentioned bone in his body. Surprisingly, on "The Helpful Gallaghers," though, he was actually a present figure in everyone's lives. 
Then again, he does still have Carl convinced that he has cancer - but, hey, at least Carl got to go to camp and see some boobs, right?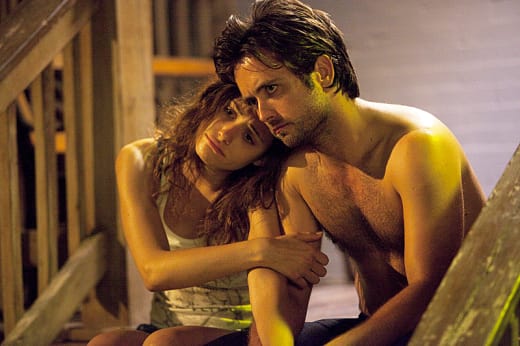 I was surprised that the episode opened with Frank helping Debbie with her swimming skills so she could safely go to the pool. As safe as it is to go to a pool where other kids are gonna try and drown you. Frank is nothing if not brutally honest and real. Even if the scenario was messed up, he was genuinely helping Debbie out. Then he took Carl to camp which he's actually not getting anything out of.
The camp was obviously sad and depressing. But Carl being Carl he made friends and made the best out of it. Carl may not be sick but the other kids were and Carl helped them have fun and see their first set of breasts, a big deal for pre-pubescent boys. Not so fun for that counselor, however.
Back in Chicago, everyone was having sex; V and Kev for baby-making, Mandy and Lip for fun. Do you think Fiona was right when she told Lip he needs to be careful with a girl like Mandy? Lip is a good guy and he tries to do the right thing. When he heard Mandy's little sister was going to end up in foster care he felt like he had to do something to help. Lip is definitely in over his head but he cares about Mandy and is just trying to help out. Then there's the little fact that Mandy's little sister also has a penis. I don't even know what to say about that.
The whole situation is hard because Fiona definitely doesn't need another mouth to feed. It doesn't look like she's going to hang onto this job if she doesn't start participating in "Bobby breaks." Despite her Norma Rae moment and inspiring speech, in the end most of the ladies decided that a Bobby might be better than another random manager. How is Fiona going to be able to keep working at a job where she is the only woman out of everyone who refuses to please the boss? 
Things aren't any easier for her man Jimmy. The big secret is finally out of the closet now that Jimmy's dad got wasted and accidentally felt up Lip thinking it was Ian. It's safe to say that his dad's financial situation isn't the only reason his mom kicked him out.
When you feel a full chub poking you in the back, the meaning's pretty clear. | permalink 
Can you believe how Jody's sex life used to be? I guess I never knew what exactly went on in Sex Addicts Anonymous... but wow. The whole Frank, Sheila, Jody dynamic is weird but also hilarious. Frank will do just about anything for a home cooked meal and shelter. Coach your boyfriend through your sex toy fetish for some fresh pancakes and coffee? Sure why not!
It was a bizarro episode of Shameless, but what is this show if not completely off its rocker? Do you feel bad for Jimmy? Will Fiona keep her job? What's going to happen with Mandy's younger sibling?