Pretty Little Liars Review: Lukewarm Water
by Teresa Lopez at .
UGH. Pretty Little Liars has got to stop waiting until the last few minutes to be entertaining. Halfway through tonight's episode, I wrote the following: "This is sooo boring."
"Hot Water" only delivered mostly tepid action this week. I felt like the majority of tonight's episode was dull, dull, dull. We got a few bits of important information and some romantic reunions, but there was definitely something lacking.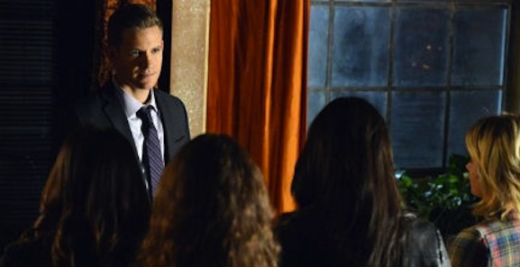 The number one thing missing was Spencer's confession to the girls that Toby is A. Instead of using this episode to start repairing her relationships with her friends and preparing them for the danger lurking in the shadows, Spencer moped and sulked some more, hiding out in Ella's classroom with Keats' "Ode to a Nightingale" on the chalkboard. Enough! I had enough of the pity party last week, and now I'm completely over it.

When she finally does dig herself out of her funk, she decides to hook up with Wren on the street. Melissa (who I've never trusted before and especially don't tonight) may have had a point when she said: "No company is better than bad company."

Seriously, Wren? Wren's been with Melissa, Spencer, Hanna and now Spencer again. It's just getting kind of incestuous - and Wren is not trustworthy. The way he moves so easily from one to the other suggests that he's motivated by something other than genuine attraction. Plus, their little make out session made A very upset.

So, was it Toby that locked Spencer in the steam room? Seems likely and also rather psychopathic. Then again, it would be a great way to show how dangerous Toby really is...without using a do-rag. But the whole incident did inspire her to fess up. At least, that's what it looked like.

The only part of the episode that did get a little interesting was the Wilden plot. He seems really interested in shutting up the girls (especially Hanna), which suggests there might be some truth the rumor. CeCe's terrified enough to leave town right away, but not before revealing that Melissa is more involved in Ali's death that we suspected. I don't think this lets CeCe completely off the hook because it's starting to look like everyone in Rosewood is a suspect

When is someone going to actually investigate Melissa? Maybe she's hiding a blonde wig and a red coat in her closet.

I do hope that Ashley wises up and calls the police to report what happened to her. She can't expect to get away with running Wilden down and the best way to avoid being arrested is to confess that she feared for her life. This can't be the first time Wilden has abused his authority because he seems very skilled at it. In fact, we know this isn't the first time and so does Ashley.

Other than Wilden and CeCe offering up some juicy tidbits for discussion, Emily was able to break into the costume store's records and get the invoice for the Queen of Hearts costume. Guess we'll find out about that next week. Bummer for Spencer if she finds out that person who tried to kill her then was her boyfriend in drag. But it would make a for dramatic moment!

The episode featured an Ezria reunion, which unfortunately coincided with Ezra's mother returning as well. Although she's terrible at interfering in her son's lives, Mrs. Fitz-scary isn't wrong about Aria and Ezra's relationship. Aria needs to realize this probably isn't the best time for Ezra to have a relationship so far away from his son. Plus, maybe she can go back to considering Wes for more than 2.5 seconds. What do you think?

Don't forget to sound off later this week in the Pretty Little Liars Round Table - and right now on my Pretty Little Liars review.

Tags: Pretty Little Liars, Reviews
From Around the Web